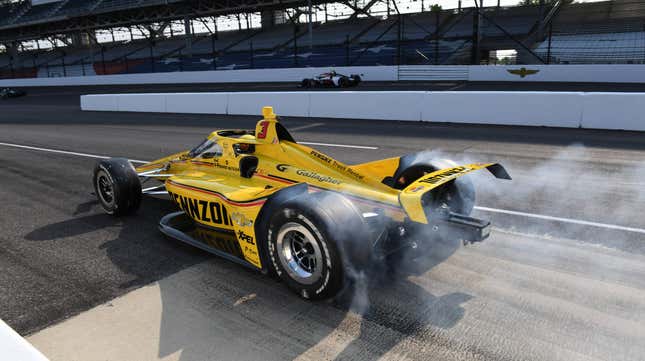 Welcome to the Jalopnik Weekend Motorsports Roundup, where we let you know what's going on in the world of racing, how to watch Indianapolis 500 Qualifying, the NASCAR All-Star Race at North Wilkesboro and the Nürburgring 24 Hours, and where you can talk about it, all in one convenient place.
It might seem like there's a lack of open-wheel action this weekend after the cancellation of F1's Emilia Romagna Grand Prix, but there's Indianapolis 500 qualifying right here in the U.S. The field of 33 will be set by the end of this weekend for the Greatest Spectacle in Racing. For three days, the American open-racing series will showcase cars causally exceeding 230 miles per hour as drivers fight for pole position and a spot on the starting grid for the legendary race.
Meanwhile, NASCAR is honoring its roots this weekend at North Wilkesboro Speedway for this year's All-Star Race. It's been nearly 30 years since NASCAR has held an event at the North Carolina short track. The All-Star weekend will also feature a unique format with heat races and a pit-stop competition for qualifying.
Overseas we have the Nürburgring 24 Hours. This year's edition of the endurance classic will be Audi Sport's last dance before its GT3 program is shuttered to shift focus towards F1. Is there anything we've missed? Let us know in the comments!
How To Watch Or Stream This Weekend's Racing:
Friday, May 19
IndyCar - Indianapolis 500 - Fast Friday Practice
From Indianapolis Motor Speedway in Speedway, IN
12:00 p.m ET. on Peacock
NASCAR Cup Series - All-Star Race Qualifying
From North Wilkesboro Speedway in North Wilkesboro, NC
5:45 p.m. ET on FS1
IndyCar - Indianapolis 500 - Qualifying Draw
From Indianapolis Motor Speedway in Speedway, IN
6:15 p.m. ET on Peacock
Saturday, May 20
Nürburgring 24 Hours
From the Nürburgring in Nürburg, Germany
10:00 a.m. ET on YouTube
IndyCar - Indianapolis 500 - Qualifying
From Indianapolis Motor Speedway in Speedway, IN
11:00 a.m. ET on Peacock / 2:30 p.m. ET on NBC
NASCAR Craftsman Truck Series - Tyson 250
From North Wilkesboro Speedway in North Wilkesboro, NC
1:30 p.m. ET on Fox
NASCAR Cup Series - All-Star Heat Races
From North Wilkesboro Speedway in North Wilkesboro, NC
7:20 p.m. ET on FS1
Sunday, May 21
IndyCar - Indianapolis 500 - Top 12 Qualifying
From Indianapolis Motor Speedway in Speedway, IN
2:00 p.m. ET on Peacock
IndyCar - Indianapolis 500 - Last Chance / Fast Six Qualifying
From Indianapolis Motor Speedway in Speedway, IN
4:00 p.m. ET on NBC
NASCAR Cup Series - All-Star Open
From North Wilkesboro Speedway in North Wilkesboro, NC
5:30 p.m. ET on FS1
NASCAR Cup Series - All-Star Race
From North Wilkesboro Speedway in North Wilkesboro, NC
8:00 p.m. ET on FS1