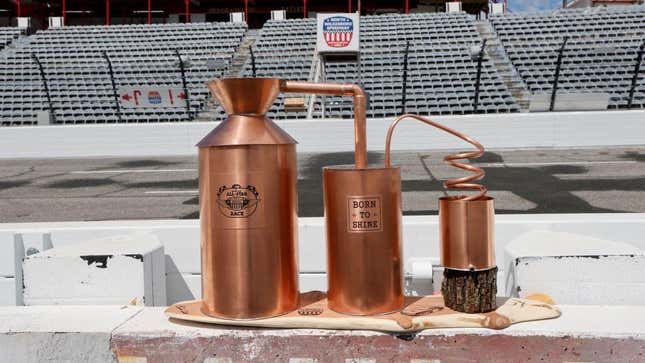 The modern-day NASCAR Cup Series might look sleek and professional, but its history can be traced directly back to the Prohibition era, when the craving for alcohol persisted despite bans on its production and distribution. Drivers modified their cars to outrun police, then started taking those cars to the track for a more legitimate form of competition. Now, as the iconic North Wilkesboro Speedway prepares to welcome the NASCAR circus once again for the annual All-Star Race, it's throwing back to the old days of stock car racing with a trophy designed to look like a moonshine still.
According to the Speedway, the copper-and-wood trophy has been designed by Call Family Distillers in partnership with the Checkered Past Speakeasy, and it — along with a hefty cash prize — will be handed out to the winner of this month's non-championship All-Star race. Event logos and the phrase "born to shine" will be branded onto a trophy so big that NWS say it'll require two people to lift it.
"NASCAR and moonshining were locked arm in arm during the sport's early days and many of the greatest drivers got their start bootlegging in fast cars through the backroads of Wilkes County," said Jessica Fickenscher, executive director of the NASCAR All-Star Race at North Wilkesboro Speedway. "We're thrilled to have Call Family Distillers provide these unique moonshine still trophies. They will provide a great tribute to NASCAR's early days with a throwback feel that winners during NASCAR All-Star Race week will cherish."
It's a fun, cheeky way to welcome NASCAR back to North Wilkesboro Speedway, a track that fell into disrepair after being closed and reopened a handful of times. It gained prominence in the popular imagination again thanks to Dale Earnhardt Jr., who led a campaign to encourage iRacing, a sim racing platform, to scan the track. The revived interest built momentum, leading to the renovation of the track and its facilities. Now, it's the home of the non-championship All-Star race, where NASCAR winners and champions are invited to compete for a large cash prize — and easily the coolest trophy in motorsport history.