The rising popularity of Formula 1 in the United States has garnered an unprecedented amount of interest in all forms of motorsport — but if you've made the transition from Netflix's Drive to Survive to live racing and are hunting for more, it can be a little intimidating to hop into a new series. So, if you've been looking to hop on the IndyCar train but only know about Formula 1, never fear: We at Jalopnik are here to give you the basic rundown of everything you need to know to tune into your first race — and there's no better first race to watch than the Indianapolis 500.
What Is the Indianapolis 500 and Why Is It Important?
The Indy 500 is one of the oldest races — and often one of the largest single-day events — in the world. A maximum of 33 open-wheel cars hit the 2.5-mile Indianapolis Motor Speedway at the end of every May where they'll go on to contest 200 laps, or 500 miles, of oval racing.
The race is the most prestigious on the IndyCar calendar thanks to its century of history, its large prize purse, and its ability to change the trajectory of a driver's career. It gains greater prestige by being a race that anyone can enter; many racers will compete in the 500 but no other IndyCar races thanks to the fact that it is such a high-profile event. It would be a little bit like if F1 teams could enter more drivers for Monaco, or drivers could compete in Monaco but no other race. Modern F1 rules restrict that kind of thing, but IndyCar welcomes it.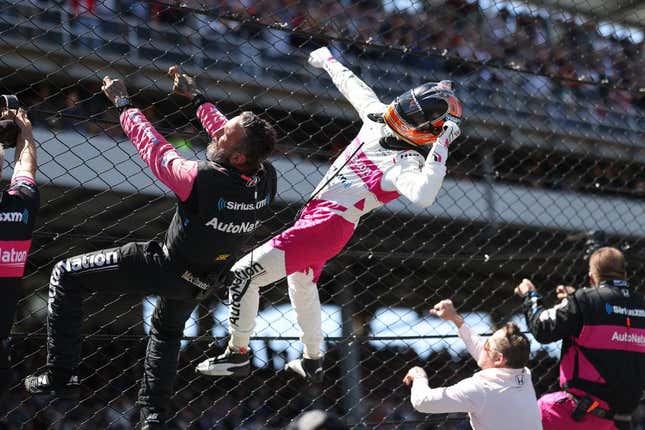 Indy 500 History in a Nutshell
With over 100 years of history, it can be a little difficult to sum up the Indy 500. The first race took place in 1911 and has been run nearly every year since, with a few exceptions due to the World Wars. That first race took almost seven hours to complete, but now you're looking at something closer to three or four hours, depending on the number of cautions.
It would be impossible to concisely sum up the history of the event, which has been run under multiple sanctioning bodies and by multiple different series. It evolved from a race so grueling that it required riding mechanics and driver swaps just so see the finish, to an event epitomized by one driver's ability to conquer everything from strategy to weather. And for a little bit of context, the 500 was run just weeks before Formula 1 icon Juan Manuel Fangio was born.
We'll include some references at the bottom of this story where you can learn more, and if you want a better sense of how the IndyCar championship itself works, we have a whole story about that right here on Jalopnik!
Formula 1 and the Indy 500
For 11 years between 1950 and 1960, the Indianapolis 500 was actually included in the Formula 1 World Championship! At the start of F1's existence, it justified the "world" of its "championship" by including at least one race outside of Europe, and the biggest non-European open-wheel race in the world was Indy.
No Grand Prix driver ever actually raced in the 500 at that time, for plenty of reasons: the sanctioning body, rules, track style, and cars were all totally different than anything you'd find in Formula 1.
If you want to know more about the Indy 500's time as a Grand Prix, we've written about it here on Jalopnik, and I just wrote and recorded an episode on this topic for the Donut Racing Show.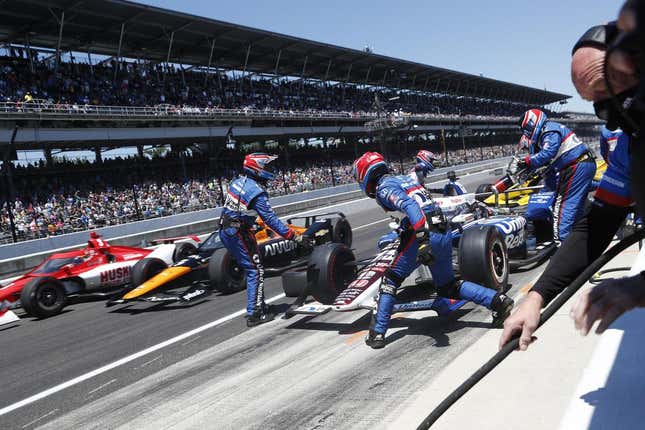 What Is the Month of May?
If you've been in motorsport circles for any amount of time, there's a good chance you'll hear your IndyCar-watching friends refer to something called "the Month of May." I'll talk a little bit more about tradition in a moment, but this is one of those traditions that fans have held onto despite the meaning of the phrase changing over time.
Back in the day, practice for the Indy 500 — which traditionally took place on Memorial Day — would open on May 1. Not every team or driver would show up for the full month of practice, but the track time was available for anyone who needed it.
The nature of the race made that extra practice extremely practical. Before the world of digital aerodynamics testing and simulator work, there was no way for a driver or team to replicate race conditions without actually being at the track — and because Indy was such a big deal, that extra time was necessary.
Only 33 drivers are allowed to start the race, but there's no cap on how many drivers can try to make the field. As a result, you'd have a lot of fairly inexperienced drivers preparing to make their debut at Indy. All that practice time gave those drivers a chance to learn the track and complete a rookie orientation, where any first-time race entrant would be required to turn laps at slowly increasing speeds so race directors could prove they had the skills to run.
That full month also enabled teams to test new cars, as Indy has historically been the birthplace of new technology. If that car needed work, there was time to sort it out before race day.
In the modern era, fans still refer to this month as the "month of May," but track time at the oval has been limited. Practice for the 500 only lasts for about a week, and qualifying takes place over two days, where it used to be run over two weekends. An additional race at the Indianapolis Motor Speedway road course has been added to the calendar as a way to revive the Month of May moniker and build hype for the 500.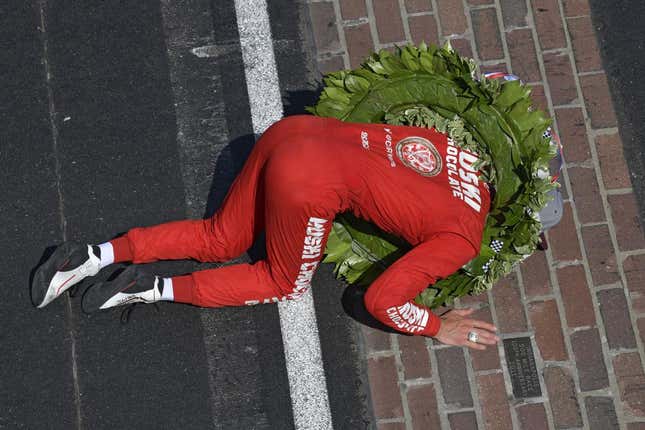 How Does Indy 500 Practice Work?
As we touched on above, the Indy 500 isn't a "normal" race weekend: practice for the 2023 running has already started and will last for four days before two days of qualifying this weekend. After the grid is set, drivers are given two final practice sessions: two hours on both Monday and Friday before Sunday's race.
This is part of the event's effort to preserve some of its history in the form of prolonged practice sessions without actually practicing for a whole entire month.
Here's how practice shakes down each day this year:
May 16: Two hours of veteran practice, followed by two hours of rookie orientation and refresher practice for those who have been away from the 500, followed by three hours of full-field practice.
May 17: Six hours of full-field practice.
May 18: Six hours of full-field practice.
May 19: Six hours of full-field practice, followed by the qualification draw which determines the order in which each driver attempts to qualify.
May 22: Two hours of full-field practice.
May 26: Two hours of full-field practice, followed by the Indy 500 pit stop challenge (a fun elimination-style event where crews compete to complete the fastest pit stop).
How Does Indy 500 Qualifying Work?
Indy 500 qualifying is one of the most complex parts of the race to wrap your mind around if you're coming in from Formula 1. Thankfully, we put together a massive guide to qualifying last year that will contain all the info you need to know. But if you want the highlights, we'll run through them here:
34 cars have entered a race that only 33 cars can start. One car will be "bumped," which means it won't make the field and will not start the race.
Oval races utilize single-car qualifying, which means one car is out on track each time. However, the Indy 500 requires drivers to complete four fast laps to qualify; the average time of those four laps will be used to qualify the driver.
Cars (not drivers) are assigned their qualifying position by random draw. This determines who will qualify first and who will qualify last.
Every car is guaranteed one attempt at qualifying.
After every car qualifies on Saturday, drivers can continue to make different attempts. Two "lanes" will open in the pit lane. Lane 1 is the priority lane. The cars in this lane will be allowed to qualify before everyone in Lane 2, but that comes at a cost: you have to withdraw your qualifying time. That means you could set a worse time than before, which you'll be stuck with.
The cars in Lane 2 will only qualify after those in Lane 1 have finished, but they do not have to withdraw their time. If a car in Lane 2 qualifies slower on its second attempt than its first, it can retain its original qualifying time.
Saturday sets positions 13-30.
Sunday qualifying is split into three different sessions: the final three, the top 12, and the top six.
This year, Saturday's four slowest cars will battle for the final three spots on the grid. One will not compete in the 500.
Then, the 12 fastest cars from Saturday will compete for faster times. The fastest six cars will move on; the slower six will have their starting position based on their times.
The final session pits the fastest six cars from the 12-car session against one another to determine pole position and the starting order for the first two rows of the grid.
Let's Talk Tradition
While there are plenty of races that have lasted decades, no event has held onto its lineage of tradition quite like the Indy 500. It's inevitable that you're going to ask why winning drivers drink milk, or why they kiss the "yard of bricks." You'll hear references to curses, superstitions, and odd places like "Gasoline Alley."
If you want to know more, we've got you covered here on Jalopnik: last year, we explained 20 of the oddest traditions that you'll see at the Indy 500. As a first-timer, it might seem silly, but I promise the pageantry will grow on you!
What's the Prize for Winning the Indy 500?
Winning the Indy 500 is a hugely desirable feat for all racers for multiple reasons, but one of the big ones is the prize purse. In 2022, the total purse for everyone who entered the event was over $16 million, and winner Marcus Ericsson took home $3 million of that. On average, every driver to start the race took home just under $500,000. That kind of money can be life changing for anyone, especially for many of the drivers who compete on a budget.
That being said, the real prize for winning the 500 is the prestige. The winning driver will join over 100 years of history and some of the greatest drivers in the world by taking first place. Drivers will have a relief of their face added to the Borg-Warner, the name for the massive trophy that celebrates the race, as a way to preserve their place in motorsport history.
How Can I Watch the Indy 500?
If you're in the United States, you can watch the Indy 500 on NBC or Peacock. Coverage begins at 9 a.m. ET, but the race won't start until 11 a.m. ET. If you're an F1 fan, that means there's plenty of time to enjoy the Monaco Grand Prix before you dive in!
If you live outside of the U.S., you can explore your viewing options on IndyCar's website.
Where Can I Learn More About the Indianapolis 500?
We only scratched the surface of the Indy 500's long history here, but we've compiled some great resources if you'd like to learn more: