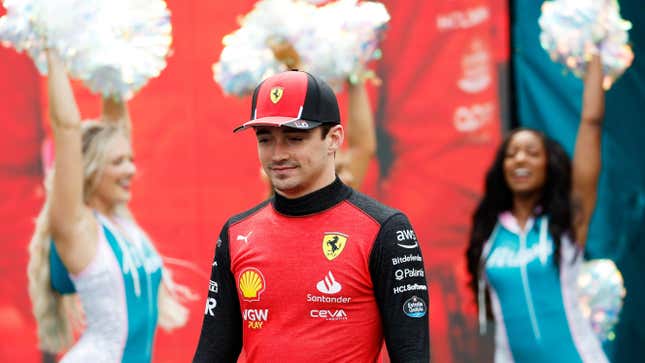 This past weekend saw the second annual running of Formula 1's Miami Grand Prix, and the race was fine. A mixed-up starting grid added some intrigue to Sunday afternoon's on-track battles, but after fanfare and buildup, fans were left calling the race a bore. The problem? Formula 1 is falling victim to its own artificial spectacle.
This NYC Garage Takes Vanlife To The Next Level | Jalopnik Visits
In case you missed it:
Under CEO Stefano Domenicali's reign, F1 has desperately sought to capitalize on its post-Drive to Survive success by transforming the concept of a race weekend as we know it — and America, F1's latest growth point, has been the proving ground for those hype-fueled ideas. His predecessor, Chase Carey, set a high bar: he wanted every race to feel like a Super Bowl, with weeklong festivities to pump up the fans. Domenicali seems to be attempting to bring that vision to life.
This weekend, we saw the hype in full force. Drivers showed up to the track in high-fashion outfits and boasting special, one-off helmets. There were Miami-specific merchandise lines and team activations all across southern Florida. Ticket prices remained high, and the price of food skyrocketed. Influencers and celebrities turned up to the track in droves. The Jonas Brothers played a concert before qualifying. But the icing on the cake was easily the implementation of driver introductions.
If you're an American race fan, there's a good chance you've seen this very concept played out at IndyCar or NASCAR races, but it was a new deal for F1. Will.i.am directed an orchestra playing some intimidating music while LL Cool J introduced drivers one at a time. What could have been an interesting concept was totally snuffed out by the fact that the most of the drivers didn't want to be there, and it showed. Most drivers seemed disinterested at best, ambling out off cue and without even bothering to do things like zip up their race suit or stop drinking from their water bottles. The direction was poor. The inclusion of cheerleaders forming an aisle through which the drivers had to walk was misguided. Overall, it was kind of a flop.
As confusing as the intros were, though, all that buildup still contributed to an atmosphere of excitement that the race quite simply could live up to. Yes, Max Verstappen still won the race, despite starting from ninth on the grid, but his battle to the front was compelling. Kevin Magnussen and Charles Leclerc battled with each other for almost 10 laps. A fascinating tire strategy saw the Red Bull teammates go head-to-head in the final laps of the race. Was it an edge-of-your-seat thriller of a race? Absolutely not — but by F1 standards, it was fairly good.
But that pre-race hype likely left fans hungry for more, creating a perception that the race itself was actually fairly boring. During F1TV's pre-race show, it even seemed like the presenters themselves were tripping over each other trying to come up with one wild prediction after another, because if we placed so much emphasis on this race, it has to be a great one.
The problem is that most F1 races aren't thrillers. This is a multi-million dollar sport that relies on nuance and logic. You're not really going to see any heated on-track battles where drivers lose their sense, since everyone is just focused on maximizing their points tally and scoring as well as possible. You're not going to see a driver intentionally rub wheels with someone else, because these cars are too expensive and too dangerous to regularly do that. F1 races are a fairly formal procession, and every so often we'll really be surprised by something fascinating.
And that predictability isn't the problem I'm talking about here. The nature of sport in general means that not every event you tune into will be ultra-fun. Out of all the NFL games, the NHL matches, the MLB games you've watched in your life, how many of those have you on the very edge of your seat itching for more? You probably have a few fond memories, but you're not expecting that level of entertainment and chaos at every single race.
The problem, then, is that Formula 1 is trying to make its races seem like they'll provide something more thrilling to fans than they actually will. F1 spent weeks promoting this second running of the Miami Grand Prix as the next best thing since sliced bread, so it's understandable that fans would tune in expecting an equal level of hype, and the on-track product created in this generation of F1 will never guarantee that.
The race was fine, but was it worth spending millions of dollars to truck in yachts to "float" on the marina? Was it worth the thousands of dollars fans spent to be there? Was it worth pouring thousands into VIP events and experiences? Honestly, not really. But when we're being told over and over again that we're about to see something incredible, we come to expect it. While the Grand Prix is supposed to be the cherry on top of a great weekend, it often comes out feeling like the biggest letdown.
This isn't a completely apt one-to-one comparison, but in IndyCar, there's a certain amount of buildup to every race, but when you see the hours-long pageantry that precedes the Indy 500, it makes sense. This race has over a century of history, it has a massive prize purse, and winning this event will change a driver's life. It's the same with the 24 Hours of Le Mans: not every endurance race needs to feature a drivers' parade the week before the event, but the one that does is the one that connotes a legitimately life-altering experience for the drivers who take part.
Miami is not worth of that. I think Miami could be fun. We should absolutely double down on the campiness of things like the driver intros, on the tacky Americana of it all. At the end of the day, though, this is ultimately just a race in a parking lot, and it does not deserve to be treated with the same gravitas of something like, say, the Super Bowl, or the Monaco Grand Prix.
Modern Monaco isn't exactly compelling, but the rich history of the event still offers it some heft. Sometimes the Indy 500 is a bit of a flop, but the winning driver is joining a century-long tradition, so the pre-race pomp and circumstance is still worthwhile. The Super Bowl's buildup may not pay off in the most exciting game, but the pageantry still celebrates the completion of a season and the rewarding of the most deserving team.
Winning in Miami will not be life changing. Attending as a fan will not leave you feeling like you've just witnessed history. There's such a mismatch between what F1 wants this race to be and what it actually is that F1 inadvertently created the perception amongst fans that the race was actually shit. There were redeeming moments, and within a different context, we'd likely still be talking about, say, Magnussen's legitimate scrap with Ferrari. But when you're repeatedly being told that this race is going to be the "greatest spectacle in motorsport" without there actually being anything to justify that claim, the effort put into building the hype just isn't going to pay off.
F1, though, appears to have gone all-in betting on this exact mindset. We can only wait to see if it pays off, but after the 2023 Miami Grand Prix, an emphasis on spectacle over on-track action may just turn out to be F1's downfall.