This Monday saw celebrities hitting New York City for the 2023 edition of the Met Gala, a huge event where rich people are invited to flaunt some delightfully experimental pieces of fashion, but for our purposes here at Jalopnik, we're primarily concerned with one big takeaway: Anne Hathaway is apparently a "huge" Formula 1 fan — and she gushed about her love of the sport right to one Mr. Daniel Ricciardo.
In case you missed it:
I'll be the first person to admit that I am not particularly clear on the minutiae of fashion, nor do I understand exactly what the Met Gala is. Google tells me that it's a fundraising ball for the benefit of the Costume Institute at NYC's Metropolitan Museum of Art. The extent of my personal investment in the event is largely confined to passing judgement on outfits the following day. (Lil Nas X took the cake for me this year, by the way.)
But this year, Ricciardo became the second F1 driver to attend the Gala (with the first being noted fashion maven Lewis Hamilton, who not only attended himself but also bought a table for up-and-coming Black designers to attend as well). Ricciardo also caught the attention of none other than Anne Hathaway herself.
Yes, that's right. The Princess of Genovia spotted Danny Ric standing awkwardly on the sidelines, recognized him, and came over to tell him how big a fan she is of Formula 1. (Although I will admit that part of what made this so entertaining was the fact that in other videos, you can see Ricciardo lingering in the background of Hathaway's photos, looking both a little lost and also very happy just to be there.)
If you've followed my reporting for any amount of time, I think you're going to know what I'm about to say, but I'm going to say it, anyway: This is huge for Formula 1's presence in America. The series has floundered in the States since its very first season in 1950, never quite ascending to "household name" levels alongside the heavily stereotyped NASCAR Cup Series. The fact that Ricciardo — who isn't even an active driver this year — is notable enough to get Hathaway's attention is awesome. The world, Ms. Hathaway included, has F1 in its sights.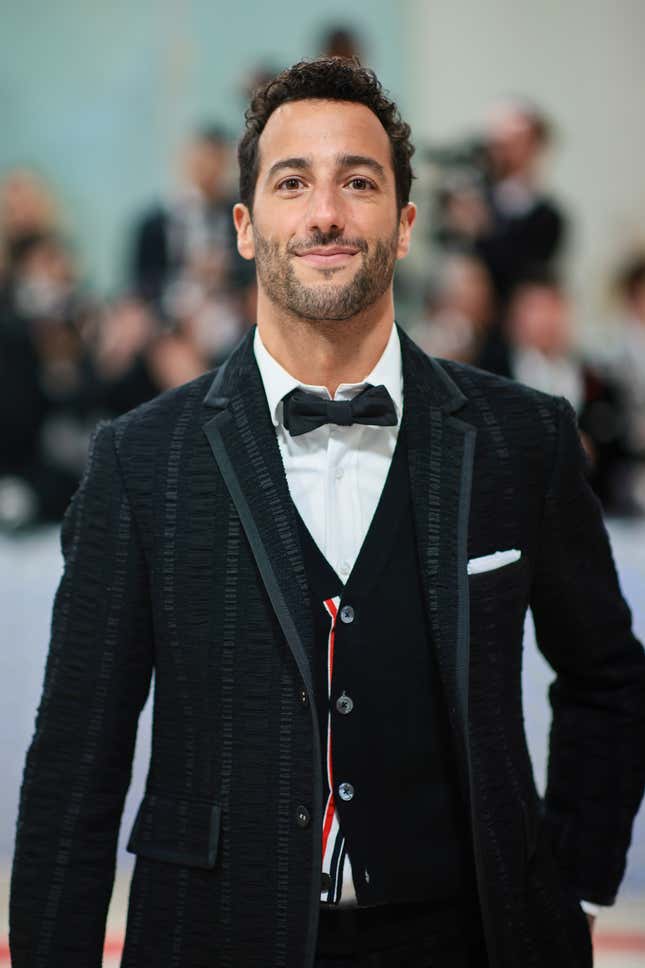 I was in the throes of recording a podcast with fellow Daniel Ricciardo fan Nicole Sievers at Two Girls 1 Formula when the first sightings of the Australian came in — and I have to say, I was a little disappointed at first. Ricciardo was decked out in a Thom Browne suit that was nice and a little edgy, but definitely not the kind of over-the-top extravaganza I hope to see at the Met Gala, and from someone with a goofy personality. Closer images that highlighted the texture of the tux helped change my mind a bit, but all things considered, Ricciardo went pretty tame with his 'fit, especially compared to other Thom Browne-bedecked celebrities at the event. (He was, at the very least, not at the bottom of my Browne rankings; that award goes to Alexander Skarsgard, who appeared to not even try.)
I'll be honest; I was hoping for something like the shiny pink jumpsuit Ricciardo wore for a Vanity Fair photoshoot. I don't know who dressed him for that shoot, but we could have used their daring input for the Met Gala. I'll just have to hold out my hopes for next year.
Nevertheless, Ricciardo turned up, he looked pretty damn good, and he also had a little chat with Anne Hathaway. I'd call that a serious win.