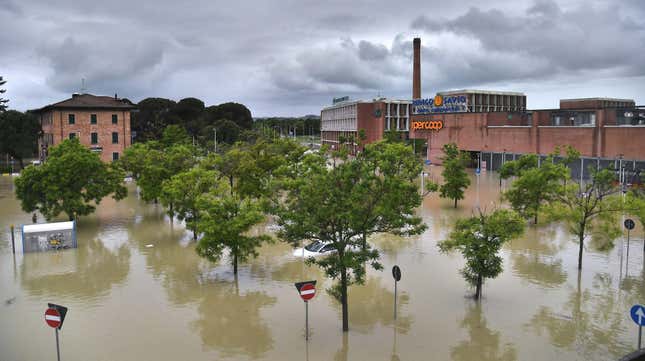 This weekend's Emilia Romagna Grand Prix has been canceled just days before gates were set to open. Formula 1 and the local government made the decision in the wake of massive flooding across the region. Reuters reports that at least eight people have been killed and thousands of people were evacuated from their homes in the region of northern Italy.
This NYC Garage Takes Vanlife To The Next Level | Jalopnik Visits
Formula 1 team personnel were told not to arrive at the Imola Circuit paddock for the second consecutive day as the parties involved met to discuss the possibility of calling off this weekend's race. The scenes across Emilia Romagna are harrowing as floodwaters force residents onto roofs and firefighters work to evacuate people by dinghy or helicopter.
Earlier today, Formula 1 released an update announcing the cancellation:
The Formula 1 community wants to send its thoughts to the people and communities affected by the recent events in the Emilia-Romagna region. We also want to pay tribute to the work of the emergency services who are doing everything they can to help those in need.

Following discussions between Formula 1, the President of the FIA, the competent authorities – including the relevant Ministers, the President of the Automobile Club of Italy, the President of Emilia-Romagna Region, the Mayor of the City and the promoter – the decision has been taken not to proceed with the Grand Prix weekend at Imola.

The decision has been taken because it is not possible to safely hold the event for our fans, the teams and our personnel and it is the right and responsible thing to do given the situation faced by the towns and cities in the region. It would not be right to put further pressure on the local authorities and emergency services at this difficult time.
The rainfall is expected to continue throughout today, and 14 rivers in the region have broken their banks. Ravenna Mayor Michele de Pascale told RAI, "It's probably been the worst night in the history of Romagna." At least 5,000 people have been evacuated from Ravena, just 30 miles east of Imola.