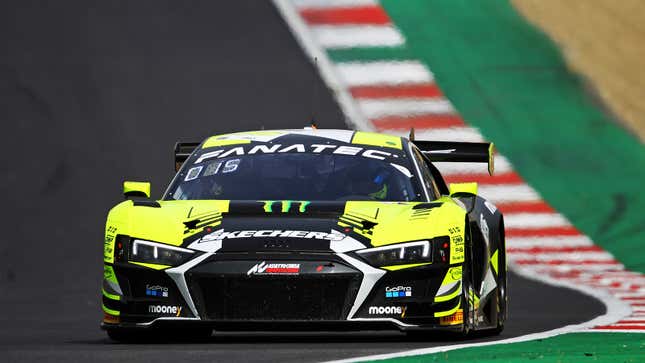 Formula 1 costs a lot of money, even with the recent cost cap factored in. That's why when an automaker enters F1, they tend to reduce their investments in every form of motorsport that isn't F1. It's no coincidence that Aston Martin nixed its Le Mans Hypercar plan around the time chairman Lawrence Stroll redoubled all the marque's efforts around the team his son races for. F1 was of course why Audi canned its IMSA and World Endurance Championship participation with an LMDh prototype, and now F1 has reportedly led to the demise of Audi's GT program, too.
2024 Nissan Z NISMO | Jalopnik Reviews
In case you missed it:
On Wednesday, Motorsport.com published an article citing multiple anonymous sources that Ingolstadt's long tenure in the world of customer GT racing will come to a close after 2023. With that, Audi will presumably cease development of its R8 LMS GT3 and RS 3 TCR chassis, disband its factory driver squad and, of course, stop offering support to client teams. Those teams may press on with the cars in their possession for as long as they choose to, but that won't last forever. From the story:
According to multiple sources, Audi's board of directors led by [CEO Markus] Duesmann decided to put all its weight behind the F1 project already in 2021, long before even its grand prix entry was finalised.

It is understood that the board finally issued instructions towards the end of last year to close its customer racing division following the conclusion of the 2023 season. Audi Sport Customer Racing includes the GT2, GT3 and GT4 variants of the R8 LMS as well as the TCR programme with the RS 3 LMS.
The lone exception to the cancellation of all of Audi Sport's non-F1 efforts appears to be the brand's Dakar and World Rally Raid programs. But even those seem unsafe due to middling results thus far. Not to mention this hardly encouraging statement from Audi provided to Motorsport.com, when the site reached out to question the legitimacy of what it'd learned:
When asked for a comment about the future of Audi Sport Customer Racing, a spokesman said in a statement: "The motorsport program in customer racing for 2023 has been decided and will also be carried out as follows: 24 Hours of Nürburgring, 24 Hours of Spa, GT World Challenge, TCR World Tour, DTM.

"We are currently discussing the further development of customer racing and the Dakar project. As soon as decisions have been made, we will inform our teams and partners."
Although this news isn't at all surprising, it's nevertheless disappointing. The writing on the wall was visible as soon as Audi announced its intentions last year. And though you might think that F1's rising stock would lift the marketability and general perception of motorsport as a whole, that's not really the way it works when companies have limited budgets, and racing isn't cheap.
The lone exception to this is Ferrari, which has defined F1 for decades and recently expanded its racing activity with a factory-backed Le Mans Hypercar program. Though unconfirmed, the only reason that probably happened is because of the cost cap F1 instituted. The Scuderia hinted as much to The Guardian by way of The Race, way back in 2020. The World Endurance Championship bid allowed Ferrari to retain motorsport personnel and resources it was required to remove from its F1 operation.
Le Mans hasn't really felt like Le Mans since we lost Audi prototypes in the wake of Dieselgate six years ago, and now that absence will extend to the rest of the endurance-racing calendar and any GT3-class competitions where the R8 road car used to play. Fortunately, there's enough engagement and new faces to the sport that the omission won't sting quite as much as it otherwise would've.