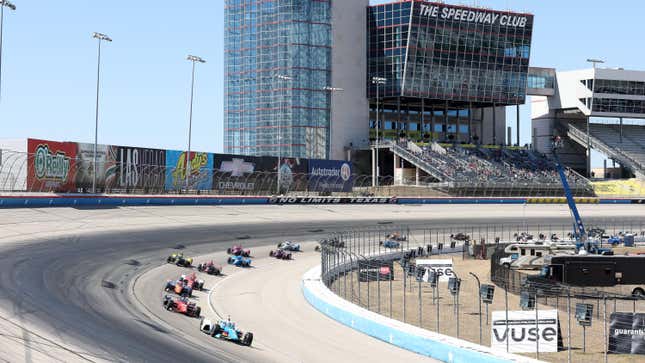 Welcome to the Jalopnik Weekend Motorsports Roundup, where we let you know what's going on in the world of racing, how to watch this weekend's Formula 1, NASCAR, IndyCar and MotoGP races, and where you can talk about it, all in one convenient place.
In case you missed it:
Formula 1 returns after a weekend off for the Australian Grand Prix in Melbourne. For the first time ever, Formula 2 and 3 have been flown out from Europe to join the world championship down under. IndyCar is running its first oval race of the season at Texas Motor Speedway. After going on a road course excursion last weekend in Austin, NASCAR is headed to Richmond Raceway for a short-track showdown.
Last but not least, MotoGP is heading to Argentina for the second race of 2023. Several notable names will not be competing after suffering injuries during the season opener in Portugal. Pol Espargaró had a near-fatal crash in practice. Enea Bastianini broke a shoulder blade in a crash during the championship's inaugural sprint race. Marc Márquez and Miguel Oliveira were both injured when Márquez collected Oliveira during the race. Is there anything we've missed? Let us know in the comments!
How to Watch or Stream This Weekend's Racing:
Friday, March 31
Formula 3 - Sprint Race
From Albert Park in Melbourne, Australia
7:45 p.m. ET on ESPN3 / F1TV Pro
Formula 2 - Sprint Race
From Albert Park in Melbourne, Australia
11:20 p.m. ET on ESPN3 / F1TV Pro
Saturday, April 1
Formula 1 - Australian Grand Prix - Qualifying
From Albert Park in Melbourne, Australia
1:00 a.m. ET on ESPN / F1TV Pro
MotoGP - Argentine Grand Prix - Qualifying
From Autódromo Termas de Río Hondo in Termas de Río Hondo, Argentina
9:50 a.m. ET on MotoGP Videopass
IndyCar - PPG 375 - Qualifying
From Texas Motor Speedway in Fort Worth, TX
12:15 p.m. ET on Peacock
MotoGP - Argentine Grand Prix - Sprint Race
From Autódromo Termas de Río Hondo in Termas de Río Hondo, Argentina
1:00 p.m. ET on MotoGP Videopass
NASCAR Xfinity Series - ToyotaCare 250
From Richmond Raceway in Richmond, VA
1:00 p.m. ET on FS1
NASCAR Craftsman Truck Series - SpeedyCash.com 250
From Texas Motor Speedway in Fort Worth, TX
4:30 p.m. ET on FS1
Formula 3 - Feature Race
From Albert Park in Melbourne, Australia
7:05 p.m. ET on ESPN3 / F1TV Pro
Formula 2 - Feature Race
From Albert Park in Melbourne, Australia
9:35 p.m. ET on ESPN3 / F1TV Pro
Sunday, April 2
Formula 1 - Australian Grand Prix - Race
From Albert Park in Melbourne, Australia
1:00 a.m. ET on ESPN / F1TV Pro
IndyCar - PPG 375 - Race
From Texas Motor Speedway in Fort Worth, TX
12:00 p.m. ET on Peacock
MotoGP - Argentine Grand Prix - Race
From Autódromo Termas de Río Hondo in Termas de Río Hondo, Argentina
1:00 p.m. ET on MotoGP Videopass / 3:00 p.m. ET on CNBC
NASCAR Cup Series - Toyota Owners 400
From Richmond Raceway in Richmond, VA
3:30 p.m. ET on FS1