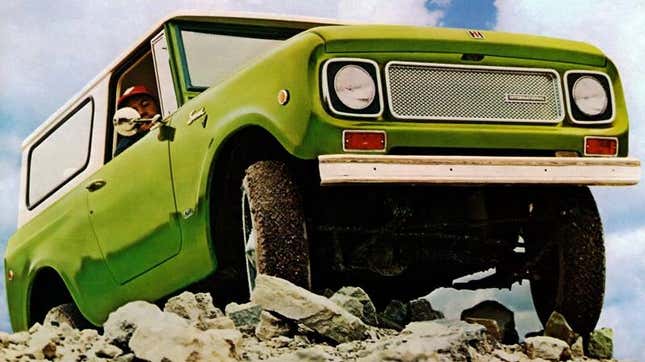 Scout, Volkswagen's newly revived electric off-road vehicle spinoff, has officially found a home for its production facility. In a tweet, South Carolina Governor Henry McMaster announced that Scout will break ground on an all-new plant in his state.

In case you missed it:
Gov. McMaster said the $2-billion plant in Blythewood, South Carolina will bring around 4,000 jobs to the palmetto state. According to Reuters, the factory should be capable of producing about 200,000 Scout EVs per year when it's fully up and running. The new factory, built on 1,100 acres of land, will be located about 350 miles from Volkswagen's current plant in Chattanooga, Tennessee. The outlet reports that groundbreaking is planned to start in the middle of 2023, and the facility should be up and running for Scout production by the end of 2026.
Last May, VW surprised the world by announcing it would re-introduce the Scout brand, which was used on International Harvester 4x4s and pickup trucks from 1960 to 1980. The new Scout will exclusively build all-electric SUVs as part of Volkswagen's turn to full electrification. It would also provide a new range of utility vehicles for VW Group: As Reuters explains, SUVs now account for roughly 80 percent of U.S. sales for VW and Audi. Volkswagen has not had a pickup truck in its lineup since the Rabbit-based Caddy was discontinued in the 1980s.
"We're reimagining Scout's original ingenuity and electrifying its future," Scott Keogh, Scout Chief Executive, told Reuters.
TechCrunch explains that South Carolina made sense for VW for a couple of reasons: the Inflation Reduction Act and incentives from South Carolina's government itself. Back in October of 2022, Governor McMaster signed an executive order that prioritizes building EV infrastructure, preparing state workers for these sorts of manufacturing jobs or organizing EV planning under a centralized working group. With BMW's Spartanburg plant and more than 500 other automotive-related companies employing more than 75,000 people in the state, South Carolina is becoming a hub of U.S. auto production.