Right now there is not one, but two First Edition 2008 Dodge Challenger SRT8s with fewer than 10 miles on their odometers on eBay, from two different sellers. Their owners probably assumed the model was going to be a classic, and I bet never would have guessed that Dodge would be pumping out 797 horsepower versions of essentially that same vehicle over a decade later.
So the Challengers have just sat for a decade, and now wait for you to buy them over newer, objectively better ones.

The first seller writes in the description that the car, which has nine miles on its odometer, was bought new from a dealer, picked up in a trailer, and has remained in that enclosed trailer for a decade "only to be removed occasionally to have all mechanical's [sic] exercised." Apparently the 425 horsepower Challenger SRT8, outfitted with "every factory option available in 2008," has been meticulously maintained over the years, with the listing describing the machine's life of leisure:
All liquid stabilizers have been added, trickle charger kept on the battery and extreme care has been taken to make sure no elements enter the trailer. This has never been washed so you will see some dust on the finish.

It was removed to a lift for pictures and promptly put back in the trailer after. It is started once a month and backed up and down the driveway every couple months to keep everything lubricated.
The photos of the car for sale on eBay are a bit odd, since they don't really show the whole car, but what is shown looks minty:
G/O Media may get a commission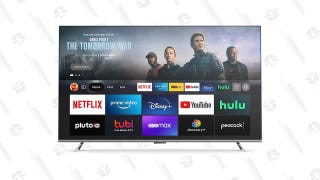 Save 46%
Fire TV 55" Omni Series 4K UHD Smart TV
There's actually another 2008 Challenger on eBay, and it apparently has even fewer miles on its clock: just two. According to its owner, the vehicle has never been driven, and was transported on a flatbed to a heated garage, where it has sat ever since. The photos show it up on jack stands to keep the load off the springs.
I called the Pittsburgh-based owner, 77 year-old Joe, a collector of all things vehicular—including motorcycles and car models. He told me that he's just decided to sell off his extensive collection of cars, since his five daughters don't want them.
He said he bought three Hellcats—a red, white, and blue one, and gave the latter two to his grandsons. The red one he kept, though he doesn't drive it. His daily driver, Joe told me, is "a little Japanese car." He didn't remember the make.

Yes, remarkably, a car collector with a First Edition Dodge Challenger with two miles on the clock daily-drives a random Japanese car whose brand he doesn't even know.
Joe told me that he bought the Chally anticipating that it would be a classic someday, and that it would gain value. That doesn't appear to have happened, but still, he did experience the joy of looking at this gorgeous sheetmetal sitting in his garage:
The Buy It Now price on the nine-mile Challenger is $36,995, while the two-mile one is at $35,000. These may sound high, since you can buy a 2019 485 horsepower Dodge Challenger R/T Scat Pack for only about three to five grand more. But I will say that I'm a big fan of this First Edition, and have been since I was but a young 16 year-old.
When this car came out, it was the hottest thing out there. In fact, I—then a junior in high school—drooled over the car at the 2008 Kansas City Auto Show, as shown in these photos I dug up from an old album from 2008:
Oh yes, here's a side view photo that I took with my little digital camera (this was well before smartphones became common, remember?):
I apparently liked the lights:
Here's the interior, too:
The point here is that anyone should be forgiven for thinking this thing was going to be hot stuff well into infinity, because it was eye-searingly hot stuff back in 2008, and actually, the styling remains fresh.
Would it be hard to pay over 30 large for a car with a five-speed automatic and an interior from the DaimlerChrysler era, especially since you can still buy a much improved version of this car today? Sure. But I must say, I do like the early Challengers, and in some ways, this car was the beginning of an era. And to some, that may have value.

Hat tip to Road & Track!