Emails are hard. You've got like five accounts, full of news, people asking you to do stuff, annual reminders you set 10 years ago and can't delete, spam, and offers from 53 retail stores when you remember deliberately not checking the "keep me updated with promos" box. It's easy to miss the important stuff.

Take Tony Stewart, who missed an email from IndyCar team owner Bobby Rahal offering him a ride for the 2019 Indianapolis 500—you know, the big race that pays about $2.5 million to win these days. Look, emails are hard. It happens.
Stewart, who's won three NASCAR Cup Series championship titles and one in IndyCar, retired from NASCAR's top level in 2016 to be a team owner, race dirt tracks and wreck ATVs. NBC Sports reports that he mentioned earlier this year he wanted to run the Indianapolis 500 again after nearly two decades, and Rahal apparently emailed him to make it happen.
Stewart just didn't see it. From NBC Sports:
"And I don't do emails, so I haven't even responded to Bobby Rahal yet, so I just found out I had an email from him," Stewart said, pausing to turn to the camera with a smile. "Sorry Bobby, I don't do email."
G/O Media may get a commission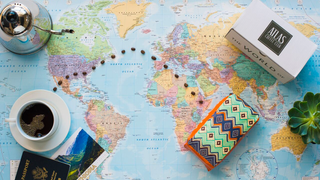 First Bag Free
Atlas Coffee Club - Free Coffee
Explore global coffee
With each bag, Atlas includes details on the coffee's tasting notes and a postcard about the region and its coffee history. And when you subscribe, you have options to tailor frequency, grind size, and roast preference of your beans, so you'll always be brewing the perfect cup.
Same, Tony. Same.
Stewart said he's not going to run the Indy 500 in 2019 anyway, because he at least wants to run an oval race and get to where he feels competitive in the field before going to Indianapolis. From NBC Sports:
"Not this coming year," he said. "I did what I normally do, I let my mouth open before I thought about what I was saying and mentioned that I was open to the possibility again, and I realistically am.

"The reason I wouldn't do it next year, I'm not doing it to just do it. I want to do it to try to win the race. If you're really going to do that, the IndyCar Series is so competitive right now, and the drivers and teams so tough, you're not going to just stroll in here like they used to do in the '70s and '80s and do a good job. [...]"
Frankly, we at Jalopnik miss emails offering us Indy 500 rides all the time. It happens at least twice a year, actually. We're all too busy training for the biggest race in the world to remember to sift through our long list of messages with Craigslist links, press releases, pitches about new mobility companies that surely won't fail, steaming vitriol, people asking for our advice and other people asking for our untimely demise, in order to find all of those Indy 500 offers we get each year. Thus, we have postponed our debuts time and time again.
"Ah, we'll get 'em next year," we sigh, putting a note on our calendar to check our emails when the time comes again.
Then, when the next year rolls around, we miss the calendar reminder email.