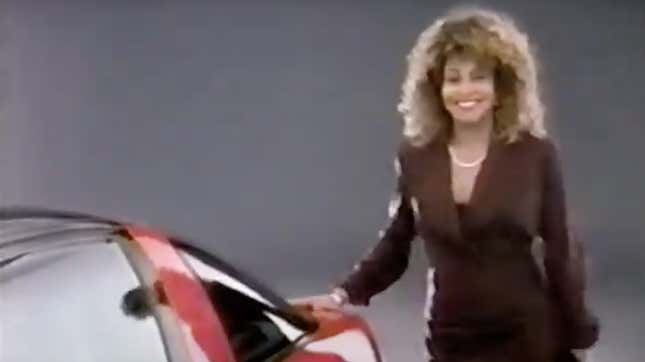 Sad news out of the entertainment industry Wednesday after Tina Turner, the fantastic, soulful American singer and former Plymouth-brand spokesperson, passed away at her home in Küsnacht, Switzerland after several years of failing health following a stroke.
The Plymouth Prowler Is the Most Excellent '90s Car
Turner is best known for her incredible voice, exploding on to the music scene in the late '50s and early '60s with her husband Ike Turner's band. She quickly became the star attraction, however, from a New York Times' obituary:
"In the context of today's show business, Tina Turner must be the most sensational professional onstage," Ralph J. Gleason, the influential jazz and pop critic for The San Francisco Chronicle, wrote in a review of a Rolling Stones concert in Oakland in November 1969. "She comes on like a hurricane. She dances and twists and shakes and sings and the impact is instant and total."

But if the Ike and Tina Turner Revue was a success, the Ike and Tina Turner marriage was not. Mr. Turner was abusive. After she escaped the marriage in her 30s, her career faltered.But her solo album "Private Dancer," released in 1984, returned her to the spotlight — and lifted her into the pop stratosphere.

Working with younger songwriters, and backed by a smooth, synthesized sound that provided a lustrous wrapping for her raw, urgent vocals, she delivered three mammoth hits: the title song, written by Mark Knopfler of Dire Straits; "Better Be Good to Me"; and "What's Love Got to Do With It."

Any child of the '80s or '90s knows Turner's hits by heart. They are soulful ballads still sung with feeling at karaoke bars and post-breakup girls' nights across the county. After successfully reinventing her career at 45 years old, winning four Grammys in 1985, starring in several films and playing sold out stadium shows around the world, Turner was ready for her biggest break ever: Spokesperson of the Plymouth Laser.
This being 1990, the car and the famous singer are compared side by side (what are we today gals? Plymouth Lasers!) While kind of objectifying, it's still remarkable treatment for a then-50 year old woman to receive:
A second commercial allowed Turner to talk like a person instead of spin around like a prop:
Obviously, lending the Laser some of her charm and grace didn't do much to help Plymouth out with sales; it was a sad, boxy little number that lasted in Chrysler's lineup for only a few more years. Turner would also turn her star power to the Plymouth Acclaim which... OK.
"This car was built for comfort. I wonder what else we have in common?" is such a strange line it could only come from the early '90s. Unless Turner came with a three-speed automatic with front wheel drive then their commonalities are sadly at an end.
But even before those two weird commercials we have the Plymouth Voyager:
And the Sundance!
Gosh, what a line up of forgettable stinkers. Chrysler's just always just been like this, huh? Plymouth died back in 2001 of low sales from similarly sad models. The only thing memorable about these very simple ads is the effortless smile and confident gaze of one of the greatest solo singers of all time.