Cheerleaders have spirit, yes they do, they have spirit, how 'bout you? Today, Nice Price or Crack Pipe is shaking our pom-poms for a Dodge Spirit, to see if it's anything to cheer about.
Good lord people. Brett never even saw what hit him, but yesterday his automatic-equipped '91 300ZX achieved a stunning 97% Crack Pipe-gasm for its $21,000 asking price. While Brett may not be bringing home the Canadian Bacon by selling his Nissan, you have the chance to bring home a spirit from the past.
K-cars, k-cars, whatcha' gonna' do? Whatcha' gonna' do when the floors rust through? The 1980's savior of the Pentastar brand seemed to be malleable into nearly any form or function that Lee Ioccoca deemed profitable. That meant sedans, minivans, sport coupes and woody woodpecker-taunting convertibles were popped out of Chrysler like Octomom makes welfare dependents. Some were atrocities, others were clever and worthwhile. And a couple remain covetable. One of the latter is the object of our scrutiny today- a 1991 Dodge Spirit R/T, for which the seller is asking $3,100.
The Spirit arrived on the scene in 1989 in replacement of the 600 sedan. Featuring a smoother, more modern-looking body than its predecessor, it still stood upright for both a roomy interior and 4 golf bag trunk. It also was endowed with a firmer suspension than its sister, the Plymouth Acclaim, although all body panels, hard trim, and dash were shared between the siblings.
G/O Media may get a commission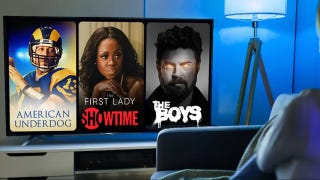 UNDER $1
99¢ Prime Video Channels
This 1991 is the hottest and most desirable Spirit produced- the R/T. That venerably-named sport package gained you sport seats, P205/60R15 tires on color-keyed alloy rims, heavy-duty brakes and the A568 five-speed manual with gearset by Getrag. Most importantly, you received the 2.2-litre turbo III engine with Lotus-designed head, which was good for a whopping 224-bhp- one shy of a '91 Mustang GT's. That was a jump of 74 ponies over the Lotus-less 2.5 turbo, and elevated the car into the performance strata of the BMW M5s and Taurus SHOs of the time.
Its sub-six second zero to sixty time may not seem jaw dropping today, but as far as American sedans were concerned, that was NASA performance back in '91. Of course, applying all that power to the front wheels alone is like holding a fire hose solo- pretty soon you're sitting in a tree wondering what happened to your teeth. But once you master the vagaries of the chassis, it'll be a hoot and a half to roll around in.
Those kind of numbers, and that level of performance, should get you into the spirit of determining whether this Dodge is worth the $3,100 the seller is asking. To tip the scales, he notes- and documents in pictures- the engine rebuild that was undertaken. He's also aware of the exclusivity of the model- there were just over 500 white Spirit R/Ts built between 1991 and 1992, the model's only years. On top of that, how many are still around? Dodge was popular in the mid-west where ice and road salt goes through cars like snails through a goose. This one seems to have dodged (see what I did there?) that bullet, although there are some paint issues that'll need to be addressed in keeping this car around for the next engine rebuild. Also, it just may be the flash, but there's something very blue about that steering wheel.
So, does this Dodge give you the old-school Spirit? Or, does that $3,100 price make you think that, while the Spirit is willing, the flesh is. . . on crack?
You decide!
Madison Craigslist or go here if the ad disappears. Hat tip to tempesjo for the tip!
Help me out with NPOCP. Click here to send a me a tip, and remember to include your commenter handle.