Brett Goodman wants to sell you his car, but only if you're serious. That pretty much leaves out Nice Price or Crack Pipe, because we can't keep a straight face looking at the price.
Yesterday, 82% of you flagged down a Nice Price for the '67 Checker Marathon. While its meter was running, we moved on and today we're thinking why take a cab when we could drive this 1994 twin turbo 300ZX?
Introduced in 1989, the Z32 300ZX was available in normally aspirated and, as in this case, VG30DETT twin-turbo form. By the time this '94 was built, the market for Japanese heavy sportsters was in decline and Nissan sold fewer than half as many 300ZXs that year than the year prior. That makes this one of only 5,320 1994 cars, and if you add the hot motor and the t-tops, that number dwindles further.
The seller, Brett Goodman, notes that the original sales sticker is included with the car, and that it went for over fifty-one grand when the paint was all shiny and nobody but the guy that put them in had farted in the seats yet. Today, the paint has dulled somewhat, and there's the ubiquitous door dings and paint chips. Brett considered fixing these blemishes, but cooler heads prevailed, and his friends talked him out of it. Bet that didn't take long.
G/O Media may get a commission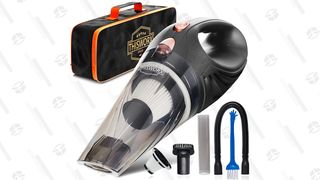 Save 50%
ThisWorx Car Vacuum Cleaner
Brett happens to be the second owner of the car and his ad reads like an online dating resume. Under turn-ons he notes windy roads and a firm hand in the gearshift. That likes-it-rough shifter is an automatic, in case you were wondering. Also, if you wondered, Brett is asking a hefty $21,000 for his red rocket. And he's only interested in dealing with serious buyers. That would leave out such less than serious potential suiters such as Krusty the Clown, Jerry Seinfeld, and, before he moved to 10PM, Jay Leno.
No, Brett is only interested in dealing with furrowed brows and earnest nods of comprehension. It's obvious that Brett is a no-nonsense kind of guy. His revelation that the leather on the driver's seat shows some signs of wear demonstrates how serious he is, and perhaps that he's a lard-ass.
So, do you have what it takes to buy Brett's Z? That being an effective control of the giggles, and $21,000? More importantly, do you think Brett's 300ZX is worth twenty-one large? He did just treat it to a $457 detail, bikini wax, and shampoo- serious change for a bath. And he notes the mileage in kilometers (72,000 of them) rather than miles, which is pretty serious.
Brett is serious about selling his car. Do you think that price is seriously righteous? Or, is Brett seriously whacked?
You decide!

Brettgoodman.com or go here if Brett thinks he isn't being taken seriously. Hat tip to Big Dipper, seriously.
Help me out with NPOCP. Click here to send a me a tip, and remember to include your commenter handle.