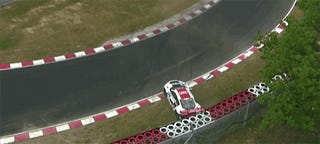 Audi worked hard to make history at the Nurburgring 24 and to prove again that while the R8 might be nine years old, it can still kick ass. Here's how it went down.
Just a week after winning the 24 Hours of Le Mans with their crazy diesel-hybrid prototypes, Audi's Meuspsath-based Team Phoenix Racing went to the Nurburgring with their R8s to play a much more old school game on Germany's 15.2 mile long circuit with no place for errors.
After losing one car, finishing three minutes before a pair of SLS AMG GT3s with the other R8 LMS Ultra certainly put Audi on top of the world for a few glorious hours.
BMW and Mercedes-Benz certainly has more racing heritage for now, but if Audi keeps pushing this hard in the next few years, BMW will have to start thinking about what their M badge is worth without actually racing.
Their buyers will, and 6th and 8th at the Nurburgring 24 won't cut it with them.