When you're looking for a good project car, it's easy to get caught up on the little things that are wrong. Sometimes, too much focus on the details can keep you from snapping up a really sweet deal. Take this 2015 Corvette up for sale on Copart right now. Sure, you look at that picture and you can see that it's missing some side marker light lenses and a lot of the rubber will need to be replaced, and there's some discoloration of the paint. But look past that, and what do you see? A Corvette, right?
Well, something that takes up at least roughly the same amount of ground area as a Corvette, at least. And that's something! Admit it, you've always wanted a 'Vette, right? This could be your chance! The auction says it has an estimated retail value of $42,838, and at this moment the current bid is set at $0! Can you afford not to bid on this?
Let's look at some of the other details about this sweet 'Vette:
No key? Dammit. Oh well, that's still not a deal breaker. I do like that it's an 'enhanced vehicle,' though. Looks like the color and primary damage are both 'BURN' which I think is a good thing. That's like numbers-matching, right?
Of course, the heart of any good Corvette is that 6.2-liter V8, and you can totally see most of it right here:
G/O Media may get a commission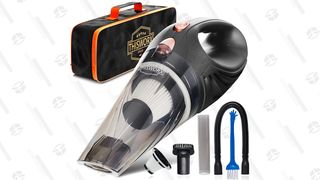 Save 50%
ThisWorx Car Vacuum Cleaner
Look at that alternator housing! It's like new! And don't get me started on how intact these mufflers are!
If you've been putting off buying yourself a project Corvette because you haven't found one you can take home in a couple of big yard waste trash bags, then, buddy, your search is over.
All I ask is that you send us pics of it when it's all restored!
(Thanks to Scott, who posted this link on his FB page)