Good Morning! Welcome to The Morning Shift, your roundup of the auto news you crave, all in one place every weekday morning. Here are the important stories you need to know.
1st Gear: NHTSA VS. Fiat Chrysler
The National Highway Traffic Safety Administration has been pissed at Fiat Chrysler Automobiles for a couple years now over perceived failures in how the automaker has handled nearly two dozen recalls, including ones related to Jeep fires and Takata airbags.
It all comes to a head today, sort of, in Washington D.C. as NHTSA will hold a public hearing to determine whether Fiat Chrysler violated the law. It's an unusual event, reports Automotive News:
The hearing marks a new high in the tension between NHTSA and FCA, which has been building since last year through periodic clashes over the automaker's responses to the Takata airbag defect and a vulnerability in the fuel tanks on some older Jeeps.
While the agency has held such hearings in the past, never before has it probed such a broad pattern of alleged violations across so many recalls in a public forum.

The hearing will feature presentations from NHTSA professional staffers detailing their concerns, recall by recall, as well as testimony from Scott Kunselman, FCA's vehicle safety and regulatory compliance chief. In addition, members of the public, including trade groups, safety advocates and concerned citizens will be allowed to make presentations.
G/O Media may get a commission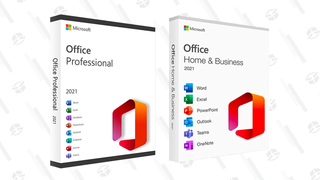 95% off
Cyber Monday - Lowest Price Ever - Microsoft Office Lifetime License
There won't be any witness questioning like a Congressional hearing, but if found "guilty" of violating safety laws Fiat Chrysler could be subject to millions of dollars in fines, more oversight or even forced to buy back defective vehicles.
NHTSA is still reeling from the damning audit that called them out as a disorganized, ineffectual mess, so you can expect them to see today's hearing as a chance to show their teeth.
2nd Gear: VW Worker Killed By Robot In Germany
In an unusual and unfortunate turn of events, a contract employee was killed by a factory robot at a German Volkswagen plant yesterday. Via The Guardian:
The 22-year-old was part of a team that was setting up the stationary robot when it grabbed and crushed him against a metal plate, Hillwig said.

He said initial conclusions indicate that human error was to blame, rather than a problem with the robot, which can be programmed to perform various tasks in the assembly process. He said it normally operates within a confined area at the plant, grabbing auto parts and manipulating them.
A police investigation is ongoing.
3rd Gear: Jag To Mag(na)
Jaguar Land Rover, which continues to grow in both sales and plans for the future, announced that they'll start contracting out some of their vehicle production to the Magna Steyr plant in Austria. They did make pains to reassure everyone they're still British, though. From Automotive News:
JLR chief executive Ralf Speth sought to reassure customers and workers in Britain that the company is staying loyal to its origins. "The UK remains at the center of our design, engineering and manufacturing capabilities. Partnerships such as this will complement our UK operations and engineering," he said.

A report said a Jaguar-badged subcompact SUV/crossover, called the E-Pace, will be built by Magna Steyr. The model would be positioned below the upcoming Jaguar F-Pace, which will be produced in JLR's factory in Solihull, England.
The Magna Steyr plant builds several models on contract for various automakers, including the Mercedes G-Class and Mini Countryman and Paceman, both of which are set to be discontinued soon. I'm sure Magna is glad to grab Jaguar's business to replace them.
4th Gear: Auto Sales Continue To Surge
June is over, and the trend of increased auto sales remains on track. The way things are going, 2015 will be the best year of auto sales in a decade, reports The Detroit News:
Compared to the same period a year ago, sales were up 4.4 percent to 8.52 million vehicles for the first six months of 2015, according to Autodata Corp.

"With stable gas prices and interest rates, the industry looks well on its way to its best year since 2005 and possibly since 2001," Bill Fay, group vice president and general manager of the Toyota division for Toyota Motor Sales U.S.A. Inc., said in a call with reporters.
Say it with me now: cheap gas, widely available credit, a continuing economic recovery. Same story, different month.
5th Gear: Unless They're Hybrids And EVs
But one side effect of these cheap gas prices is that large segments of the public are losing interest in hybrids or electric vehicles. To make matters worse, the hefty tax incentives that once drove these sales are starting to dry up in a lot of states, like Georgia, where you can no longer get a $5,000 rebate on your EV. One more from The Detroit News:
GM said sales of its plug-in hybrid Chevrolet Volt fell 31 percent in June to 1,225, and are down 35 percent in the first half of the year to 5,622. Volt sales had their worst year in 2014 since its first full year of sales. Last year, sales fell 19 percent.

GM said sales of the Cadillac version of the Volt — the ELR — fell 36 percent in June, but are up 52 percent to 593 for the year after the automaker announced a $9,000 price cut — and some dealers have cut prices even further.

Nissan said sales of its all-electric Leaf fell 12 percent in June and are down 23 percent this year to 9,816. At the current pace, the Leaf is on target to have its worst sales year in the U.S. since 2012.
And hybrid sales are doing equally bad. Sales of the plug-in Toyota Prius went down 72 percent in June and 69 percent for the year. Another problem worth noting is that nearly all of the models discussed here are older ones that have been on the market for years and are due for replacement soon.
Just a bad situation all around for EVs and hybrids.
Reverse: Things Didn't End Well For It Though
The 1 millionth Corvette, a white LT1 roadster with a red interior and a black roof–the same colors as the original 1953 model–rolls off the assembly line in Bowling Green, Kentucky on this day in 1992.
Neutral: How Do You Fix EV And Hybrid Sales?
Do people (who aren't rich Tesla buyers) only get into these things when gas is cheap? I think most of us can agree their technology is worth developing. Newer, better models like the next Volt and Prius should help some.
---
Contact the author at patrick@jalopnik.com.