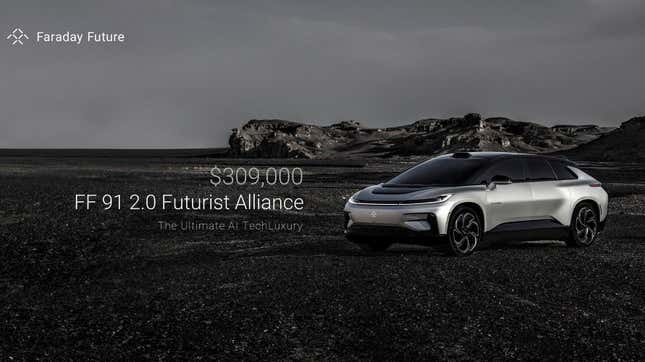 Faraday Future, the nine-year-old car company that has yet to build and deliver a car, is looking to entice buyers with a new and very special model. It's called the FF 91 2.0 Futurist Alliance, and it'll cost you $309,000. If you live in either the U.S. or China, you can now reserve one of the 300 units Faraday Future will be making for the entire globe. What an opportunity.
If that's a little rich for your blood, Faraday Future is also offering a cheaper model: the FF 91 2.0 Futurist, according to Road & Track. It'll still cost you a quarter million bucks, but yeah, I guess it is indeed cheaper.
Now, they do have some fairly solid stats behind them, if Faraday Future is to be believed. The company says that both of them will have three motors that'll put out 1,050 horsepower and 1,459 lb-ft of torque. That, in theory, will push the FF 91 from 0 to 60 in under 2.3 seconds. Faraday Future says the cars will come with 142-kWh battery packs that should be good for 381 miles of range.
You're probably wondering what that $309,000 price tag gets you. Well, it's not nothing. According to Faraday Future you get three exclusive colors (read: a couple of silvers and black), 22-inch wheels, an Apple Watch linked to the car and a day of performance driving instruction at a race track. But, wait. There's more. This is the big one: you also get some sort on on-board and personalized AI assistant. I know you've always wanted that.
On the subject of AI, Faraday Future seems to be going all in with it. The subscription is called "FF aiHypercar+" and right now details are a bit sparse to say the least. It seems like it'll be some sort of customizable AI assistant for the car. The price for all that mystery is – get ready for this – $14,900 per year (plus a $100 deposit). You read that right. You are going to pay 15 grand for something. Even more eye-opening is the fact that $14,900 is just the introductory price for the first 2,000 subscribers. After that, who knows how much it'll cost.
Faraday Future has not said when deliveries of the first model will actually be made. The first models will be heading to "Industry Expert FPOs." I've got no idea what that means, but it's probably early adopters who are somewhat connected with the company.
If all of this has enticed you, Faraday Future has reopened pre-orders to reserve cars in the future. Futurist Alliances will require a $5,000 deposit, Futurists will be $1,500 and the lowly entry-level FF 91 2.0 will require a $1,000 deposit. Before you ask, no. We have no idea how much the base FF 91 2.0 will cost.