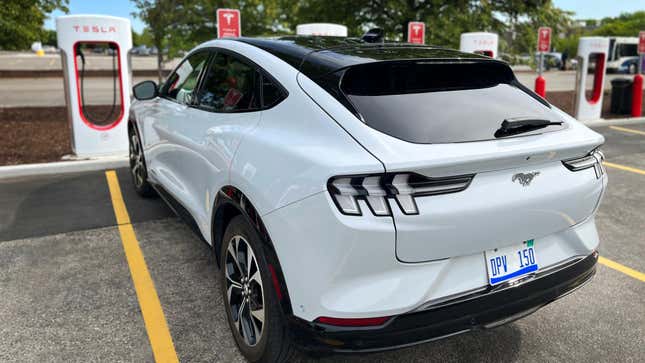 Ford is apparently going with the "if you can't beat them, join them" approach to charging. The automaker has announced that it is joining forces with Tesla and is allowing its own electric vehicles to use over 12,000 Tesla Superchargers across the U.S. and Canada by early 2024. This is the first time a major automaker has joined up to use Tesla's proprietary charging system after Tesla opened it up in 2022, and it'll double the number of fast-chargers available to Ford customers.
Ford says Mustang Mach-E, F-150 Lightning and E-Transit drivers will be able to use Superchargers via an adapter and software integration. However, starting in 2025, Ford is going to offer EVs with Tesla's North American Charging Standard connectors built-in. That means there won't be any need for an adapter to use Superchargers.
"Widespread access to fast-charging is absolutely vital to our growth as an EV brand, and this breakthrough agreement comes as we are ramping out production of our popular Mustang Mach-E and F-150 Lightning, and prepare to laugh a series of next-generation EVs starting in 2025," Ford CEO Jim Farley said in a statement."
Ford's current BlueOval Charge Network already has more than 84,000 chargers – including access to over 10,000 public DC fast-chargers. With the addition of Tesla's 12,000 Superchargers, Ford says it is creating the single largest integrated fast-charging network across the U.S. and Canada.
"We don't want Tesla Superchargers to be a walled Garden," Tesla CEO Elon Musk said on the Twitter Space call. We want it to be something that is supportive of electrification and sustainable transport in general.
The news was first released during the aforementioned Twitter Spaces event between Musk and Farley, and by all accounts, it went a lot better than the one Musk did with ol' Ronny DeSantis. It lasted about a half hour and didn't have any reported technical glitches to speak of. That's what we call improvement, folks.