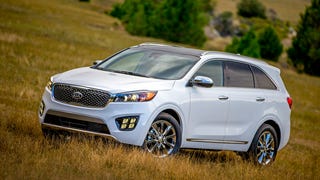 What do you get when you mix up an X5, an Explorer, and throw in a dash of Durango? You get the 2016 Kia Sorento, that just made its US debut at the LA Auto Show. It is easy to dismiss the Korean mid-sizer, but the Sorento may be the best alternative to the usual suspects like the Highlander and Pilot.
Three elderly women were killed this morning in Albany, New York, when a 55-year-old woman driving a Toyota Highlander drove into a group of people standing on the sidewalk. Unintended acceleration? Not so much. Her flip-flop was caught under the gas pedal. Another sad case illustrating the real cause of unintended…
Comedian Patton Oswalt finally puts words to the feeling of many Americans, saying he hates "the materialistic little asshole" portrayed in Toyota Highlander ads, and offers a few rewrites via the Twitter hashtag "toyotahighlanderrewrite." KFC's on us, anytime. [Twitter]
Toyota's decided to advertise the new beige Toyota Highlander SUV by getting some punk-ass kid to bash the Buick Roadmaster wagon. I hate this kid.
A Toyota Highlander Hybrid parade vehicle used for driver introductions at Lowe's Speedway this past weekend wouldn't start and had to be towed. Hopefully we won't see this from next weekend's Camry hybrid pace car.
The 2009 Toyota Highlander will be offered with two fewer cylinders thanks to a new 2.7-liter four-cylinder engine mated to a six-speed automatic transmission. Toyota says the new engine will generate 187 HP and 186 lb-ft of torque while meeting ULEV standards, but they're not talking fuel economy quite yet. What…
Toyota is laying off 800 contract workers at its Fukuoka plant in southern Japan, the first time it has canceled work contracts before they're complete. The plant currently builds the Lexus RX330 and the Toyota Highlander, which are feeling the effects of the American SUV sales slump. After Toyota's announcement of an …
The Japanese government (who didn't have anything to do with Prius development) has given approval for domestic market leasing of Toyotas newest fuel cell hybrid, the FCHV-adv. We don't know if our assumed graphic update properly represents the new look of the updated FCHV, but the updated goodies under hood and…