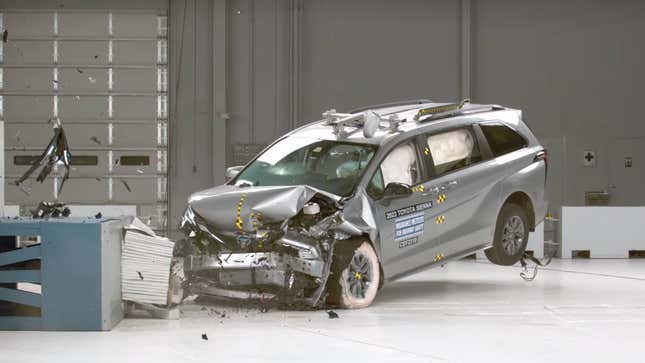 Here at Jalopnik, we're big fans of minivans. They may not be as cool as SUVs, but they're just so damn practical it's hard to care. And besides, it's not like anybody's saying, "Damn, check out that badass Toyota Highlander." But as the latest Insurance Institute for Highway Safety test shows, none of the minivans currently on sale in the U.S. excel where you would hope they would: rear seat safety.
This NYC Garage Takes Vanlife To The Next Level | Jalopnik Visits
The IIHS has an updated moderate overlap front crash test that it claims to have implemented because the risk of fatal injury is now higher for second-row passengers wearing their seatbelts than it is for the driver and front passenger. It's important to note, though, that the problem isn't that the second and third rows have become more dangerous. Instead, it's because the front seats have gotten even safer than they already were. Additionally, it's still safer for children to ride in the back until they're old enough for the front seat.
When the IIHS tested minivans recently, none received a rating of acceptable or good. The Chrysler Pacifica, Kia Carnival and Toyota Sienna earned a marginal rating, while the Honda Odyssey got a poor rating. And only the Sienna came with seatbelt reminders for second-row occupants.
"The restraint systems in all four vehicles leave the second-row occupant vulnerable to chest injuries, either because of excessive belt forces or poor belt positioning," Jessica Jermakian, IIHS vice president of vehicle research, said in a statement. "That's concerning because those injuries can be life-threatening."
In addition to being the only minivan offered with rear seatbelt reminders, the Sienna is also the only belt pre-tensioners and force limiters. Even so, the rear test dummy still slid beneath the lap belt, and the shoulder belt slid too close to its neck. In the other two marginally rated minivans, the seatbelt applied too much force to the test dummy's chest. Additionally, the Pacifica's side curtain airbag did not deploy in the test. As for the Honda Odyssey, the rear test dummies experienced even more force on their heads and necks, while the third-row seatbelt failed to stop the dummy's head from coming dangerously close to hitting the seat in front of it.
"Back seat safety is important for all vehicles, but it's especially vital for those, like minivans, that customers are choosing specifically to transport their families," IIHS President David Harkey said in a statement. "It's disappointing that automakers haven't acted faster to apply the best available technology to the second row in this vehicle class."