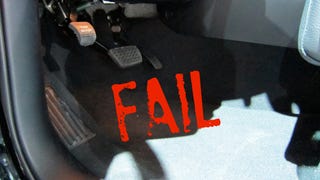 Given the recent spate of recalls, we thought we'd check the dozen-or-so production Toyota vehicles on the Chicago Auto Show floor. Two of them — a Tundra and Corolla — don't have floor mat and a Camry's mat isn't fastened.
According to the San Diego Union-Tribune, the previous driver of the loaner Lexus ES350 at the center of the fiery floor mat death recall also complained about the same acceleration issue, telling a dealership employee "You need to tell somebody."
Toyota's announced this morning they will eschew replacement for reshaping of accelerator pedals and/or floor surface on Toyota or Lexus vehicles involved in the "floor mat fiery death" non-recall safety advisory. In the meantime, here's how to avoid fiery death.
Toyota's had a problem lately with their floor mats inadvertently resulting in fiery death. The solution? More zip ties? Better floor mats? No. Give up? Shorter gas pedals!
We told you about Toyota's zip tie quick-fix they're forcing upon dealers to solve that pesky little deadly killer floor mat problem. Now here's exactly how crappy your brand new Lexus or Toyota will look. Below, how it's done.
Toyota's told dealers to attach recalled floor mats to seat frames on the driver's side of affected vehicles with self-locking zip ties to prevent them from snagging on gas pedals, causing unintended acceleration and then, fiery death. Yes, zip ties.
Concerned your Toyota floor mat may kill you? Us too. Luckily, Toyota's provided this handy guide for what to do if you think your Toyota/Lexus is part of the recall. Click "more" to avoid a fiery death.
We came across a press release in our mailbox this morning that intrigued us to the point of actually checking out the site. It's for a company named GGBailey, and they've got a site allowing you to create custom floor mats for your car. Sounds simple enough, and the concept of being able to make our own mat wasn't…