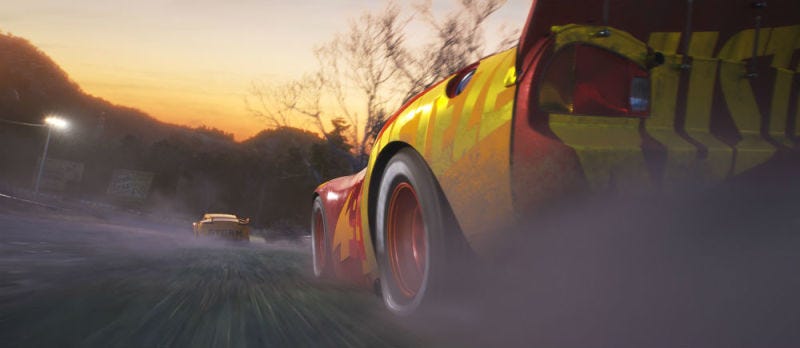 No matter how invested you are, or aren't, in Pixar's Cars films, the latest entry creates a weirdly interesting narrative around the franchise. Imagine if, after Blade Runner, Harrison Ford made a rom-com-dram sequel where Rick Deckard was suddenly running a hotel. And then he made Blade Runner 2049, where he was…
Real guns. Hot cars. Bags of empty shell casings used to recreate what we heard in Cars 2. All old hat stuff for sound guys in the audience, sure, but for the rest of us, take a listen. [The Daily]
Proving every person ever has a character in Cars 2, there's also a first-gen Mustang with headphones for sportscaster Brent Musburger. He doesn't talk in the video, which is probably for the best.
The latest racer to get his own Pixar tribute in "Cars 2": Lewis Hamilton, whose character gets a McLaren MP4-12C-like body and British Racing Green. There better be some racing against Jeff Gorvette.
Cars 2 is coming, which means an unrelenting onslaught of licensed toys. Chief among them is Disney's Lightning McQueen Alive 1:55 scale car—pat it on the head, and it wobbles, shrugs, and—get ready: talks in Owen Wilson's voice.
Here's an exclusive first look at Grem and Acer, the two newest digital automotive cast members to Cars 2, Disney's sequel to the hit flick Cars, one of the best car movies of all time. Let's meet the two aptly-named "lemons" below.
The new trailer for Cars 2 is full of animated car porn, including Gremlins armed with missiles. It'll certainly be better than Die Hard 2.
Got little car nerds and looking for ways to further indoctrinate them? Pixar's cooking up Cars 2 and here's the first image showing some inter-series racing going on in the shadow of mount Fuji. [Pixarplanet via GordonAndTheWhale]
Disney and Pixar have moved the release date for Cars 2 to Summer 2011 from 2012. While no reason was given for the change, we're guessing the filmmakers' trend consultants forecasted cars in general going out of fashion the following year. Brad Lewis (Antz, Ratatouille) will be directing the film, which will take…
Alright, I know you thought there was a limit to the movies we could go fan-boy on, but Cars was a fantastic movie and the upcoming sequel deserves a mention. Lightning McQueen and his crew of badass cars will be coming back in 2012, and in 3D to boot. So load up the kids, get ready for a nauseating movie that'll…
We shamelessly loved last year's Cars, and while it wasn't Pixar's most commercially-successful venture, there was something for practically every gearhead in the flick. According to statements apparently made by Paul Newman at the Indianapolis 500, it sounds as if the Emeryville studio is looking at dropping the new…