The 2011 Buick Regal gets an IIHS Top Safety Pick. The blue-haired, blinkers-always-on retiree crowd can now rejoice! [IIHS]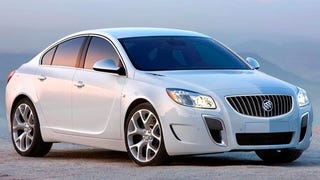 GM's confirmed the Buick Regal GS is headed for production. What's this mean? In all likelihood a 255HP, high-pressure turbocharged, direct-injection four-cylinder, manual six-speed, Haldex AWD system and bodywork from the show car. Careful Buick, you're courting our love. [DetNews]
Germany's Nürburgring Nordschliefe is 12.9 miles of thick, close forest; 73 corners; and 1000 feet of elevation change. Jackie Stewart called it the Green Hell. It's the world's most dangerous race track, and we drove it in a Buick Regal.
The Buick Regal's back and with stellar styling and the promise of a manual transmission, it's trying to prove GM's serious about making the blue-haired brand appealing to whipper-snappers. We drove it yesterday and frankly, it's pretty good.
Jim Frederico, chief engineer for Buick, just told assembled journalists at the ride-and-drive for the new Buick Regal that it'll receive a manny tranny as an available option — assumingly the same as the Opel Insignia's — sometime after launch.
The Buick Regal is officially back, a re-badged Opel Insignia sporting two Ecotec four-cylinder engines including a 220HP turbo version with 29 MPG fuel economy. GM's out for mid-size entry-luxe blood with design and equipment set to turn some heads.
It looks as though the North American Buick Regal will feature a slightly different look than the China-spec model if this image posted to Buick's official Facebook page is any indication. But that's not the real story.
We've known since August, but now It's official. At a meeting today, GM announced to their network of Buick dealers the new mid-size sport sedan from Buick will be none other than the Regal.