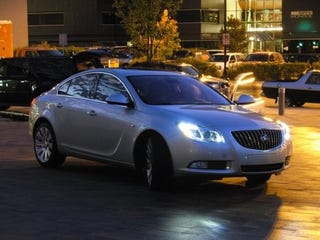 It looks as though the North American Buick Regal will feature a slightly different look than the China-spec model if this image posted to Buick's official Facebook page is any indication. But that's not the real story.
As one Facebook user pointed out, this probably ain't totally NorAm-spec yet:
"I think they'll change some of the details before it goes on sale here, such as the Euro-spec license plate area and side-mounted directional repeaters. I'm sure they'll find a place to slap on some VentiPorts"
You will also notice a slightly larger and more rounded-off version of Buick's trademark chrome waterfall grille as well as redesigned lower openings below the grille and headlamps. Then there's also new, squared-off fog lamps. All-in-all, it looks like a nice, plain vanilla Lexus. Which, frankly, appears to be completely inline with the Buick brand strategy.
So for us the real story's the BRAT hiding in the background. When's that sucker coming back? (Hat tip to Franchitti27!) [Facebook via Autoblog]