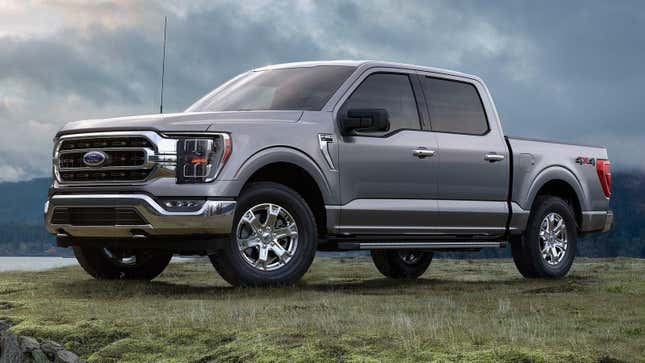 Vehicles keep getting stolen from Ford holding lots, and while authorities are sometimes able to recover the vehicles, the thieves often get away, especially in instances with multiple vehicles. Then there are times where no one knows anything about what's going on. The Detroit Free Press details how 14 Ford F-150s were stolen from a holding lot, sold thousands of miles away and stayed under the radar thanks to blank vehicle titles that were stolen 16 years ago.
In late 2022, 14 Ford F-150 pickups totaling over $1 million were stolen from a Ford holding lot in Detroit. No one knows any details of exactly how the trucks were stolen; an investigation found the site lacked video surveillance, noted multiple vehicles on the lot with keys in them and most glaringly, included the fact that Ford never reported the trucks stolen. The Free Press was able to review gas and toll receipts that showed that the trucks wound up across the country in Phoenix. Things get a bit more wild: the trucks were sold using blank vehicle titles stolen from Georgia in 2007. Freep outlined just how the whole thing went down.

A thief takes a vehicle from a holding lot, which are managed by Ford or the automaker's partners, and drives it to the Phoenix metro area. Then someone submits a stolen Georgia title filled out with the Ford vehicle information and gets a new title from an actual title company. Then the vehicle has the apparent legitimacy to go into the consumer pipeline through sales to various car dealers or individuals. In some incidents the Free Press reviewed, the vehicle had changed hands four times prior to being discovered as stolen.
Police were able to track down all 14 trucks and alerted Ford to the thefts, but the company was clueless, as there was no anti-theft system that would have let the company know the trucks had been stolen. Worse yet, dealers, title companies and customers who thought that they had done legitimate transactions found themselves the targets of raids or police investigations.
Cascio Motors in Scottsdale, Arizona, was raided on December 23 by authorities looking for four of the F-150s they had purchased for $65,000 a pop. Co-owner of the dealership, Addison Brown, is pissed and even directed some anger at Ford.
"I'm supposed to lock up my cars and have security cameras. How can Ford leave trucks out with keys in them in 2023? Why don't they have better security? I'm out $300,000 and my trucks have been impounded. When you read through the police reports, you can see that this case was worked backwards. Ford did not initially report trucks stolen. And when people ask questions, Ford is nonresponsive," she said.

Others are dealing with the fallout of the thefts as well. The owner of a title company in Phoenix instructed his staff not to title any '22 or '23 F-150s to play it safe; two Ford dealers are currently locked in lawsuits over two of the trucks they purchased, among others.
Ford's response to all of this? It happens to everyone, and the company is a victim just as much as the people who have been affected.
"Product theft is a sad reality for all manufacturers, including every carmaker, and retailers," a spokesperson told The Free Press.
You can check out the rest of the wild theft story here.