People are more interesting than cars. It's a basic premise that guides a lot of our coverage and differentiates us from other publications. A Shelby GT40 is a beautiful piece of machinery, but it's so much better if you know who Carroll Shelby and Dan Gurney are. A Lamborghini is a way for some to show off, but it's also method of delivering hope to those who need it most.
Looking back at our best features of this last year — and there are many — nothing is clearer than an emphasis on the deeper, human stories behind the vehicles we love. Enthusiasts working towards their dreams, pushing themselves to the limits of sanity and self-preservation.
Car enthusiasts helped solve a murder and helped give a young boy his last wish. We tackled old mysteries and new challenges with humor and style.
G/O Media may get a commission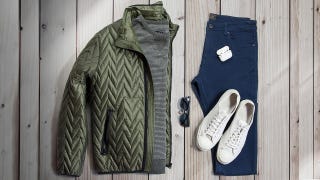 60% off
Jachs NY Fall Sale 60% Off
Yes, there were many great reviews and many important cars revealed this year, but these are the posts that moved us the most.
---
The detective eased himself down into the freshly dug trench. The guy who'd been driving the skip loader hovered nearby. A few helpers leaned on their shovels, waiting for the detective to finish his work. More »
---
Koji - no separate first or last name, just "Koji" - is a man of remarkable skill, talent, and determination who is attempting to build his dream car in a garage somewhere in Washington. More »
---
Yesterday morning I was at the California Science Center's press conference outlining their plan to drag a massive spaceship across Los Angeles. It was one of those times where logistics can make even the most outlandish plans seem boring, as they went over schedules and road closures and the like. More »
---
The world was first introduced to "Lamborghini Batman" when he was pulled over earlier this week. Now I've finally gotten through to the man behind the mask.
He answered his phone "This is Batman."
But "Lamborghini Batman" isn't the best name for him. More »
---
He owns a $400,000 Lamborghini Aventador with the license plate "WINNING." He calls his girlfriend "Concubine." He loves strippers. He lives in Long Island. More »
---
In 1963, Ferrari built four 330 LMBs, a GT race car meant to hit the track at Le Mans. All four still exist and are each worth nearly $15 million.
One of the cars, chassis number 4619, is owned by the Korean Chairman of Samsung Electronics, Kun Hee Lee. More »
---
Plenty of boys begin lusting after cars at an early age, ready either to dive into a project car or a brand new performance car (depending upon levels of means and motivation). More »
---
The PR and Marketing teams at Jaguar have had the equally exciting (the cars are amazingly sexy) and horrifying (they found gum where?) experience of watching their car company portrayed on AMC's Mad Men. More »
---
This is an MRI image of Maria de Villota's skull after she crashed the Formula One car she was testing into the back of one of the team's trailers in early July. More »
---
Christopher Nolan's Batman movies aren't just great action films, they're awesome movies for gearheads. What, besides the occasional Michael Bay crapfest, has vehicles as awesome as the Tumbler or the Batpod, or even Bruce Wayne's Lamborghinis and MV Agusta motorcycle from The Dark Knight? More »
---
As I'm typing this, somewhere nearby is a transmission jack that I own. There's also a mini tire changer and a portable wheel balancer and a five-ton gear puller. More »
---
The man in the image above is a "saboteur" - not a pro-democracy protester.
And those fiery armored vehicles bearing down on him are "enlightened peace keepers" being trained to become a "highly modern and sensitive public security force" - More »
---
A little over a week ago, a post appeared on a British Subaru forum: A father had just found out his son was terminally ill with cancer and he wanted to give him one last thrill with a small car show on September 8th. More »
---
Let's get this out of the way right up front: this remarkable woman, Violette Morris, ended her life as something of a monster, in service to the Gestapo. More »
---
Betty Wheeler was killed last Saturday when a driver in an unknown vehicle struck her as she walked near Route 340 in Waynesboro, Virginia. Police say the driver fled the scene but left this part behind. More »
---
For many, myself included, the wounds that appeared to heal have reopened today, displaying a rawness within that still remains. It's been a year since the tragic accident at Las Vegas Motor Speedway that took our friend Dan Wheldon. More »
---