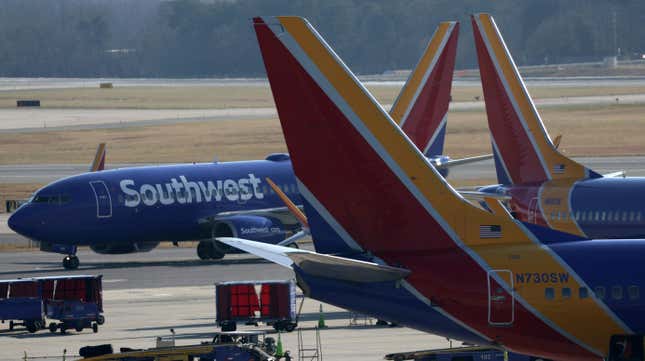 Since flying isn't already miserable enough, a customer service agent for Southwest Airlines allegedly decided to up the ante and is now charged with fraudulently creating and selling travel vouchers worth over $1.87 million, according to USA Today.
The soon-to-be-former employee was working for Southwest at Midway Airport in Chicago when he allegedly devised a scheme to use fake customer names to fraudulently generate vouchers without the airline's knowledge or approval.
USA Today reports that the 36-year-old would then sell the fake "Southwest Luv Vouchers" below market value – because it's all profit, anyway – to a 46-year-old Chicago resident, among a number of others. According to The Dallas Morning News, most of the vouchers were worth between $200 and $500. Southwest Luv Vouchers are usually given out by the airline to compensate customers for bad experiences.
The customer service agent now reportedly faces 12 counts of wire fraud. Each count of wire fraud is apparently punishable by up to 20 years in federal prison. So, if my math is correct, that's up to 240 years behind bars, though his sentence is likely to be far less than that. Arraignment is expected later in federal count in Chicago.