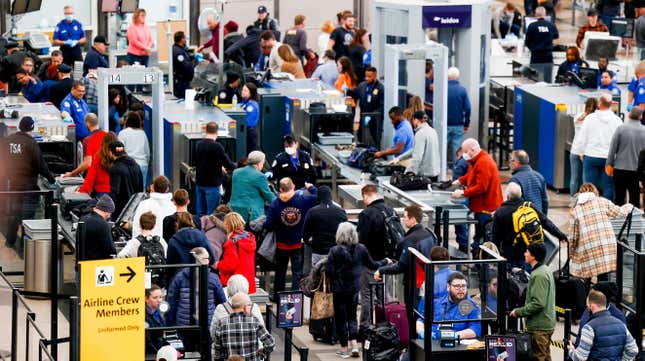 A handful of airports are rolling out a new scheme: a reservation system that's going to let travelers schedule when the TSA can feel them up ahead of a flight. It's a move coming right in time for the summer travel season, which is sure to be busy.
According to Smithsonian Magazine, Denver International Airport — the third busiest in the world — soft-launched "DEN Reserve." Basically, it's a free (very surprising) online service that lets travelers, individually or in a group, make a reservation to go through security up to three days before a flight. If appointments are available the day of your flight, you can still use the platform to book day-of slots one to four hours before departure. There's one catch: you can only do this between 5 a.m. and 5 p.m. Think of it like Fast Pass at Disney World, but less pleasant since Goofy doesn't touch you with the back of his hand.
Smithsonian Mag says that after booking the appointment, the system will email passengers a QR code, which they'll have to show at a security checkpoint, along with some form of ID. I've got some bad news, though. If you've got TSA PreCheck or Clear, you're not eligible to make a reservation. Sorry, folks. If you want to use a reservation, you've got to slum it with the rest of us.
Denver isn't alone in this program, however. Minneapolis-St. Paul International Airport also reportedly rolled out a similar program this week called "MSP Reserve." With this program, you can reserve a security slot up to a week in advance, but they're only available in early morning hours: between 3:45 a.m. and 8 a.m. But, this is just a 90-day pilot (heh, flying) program. If it works out, they could potentially expand it to other terminals and times of day.
With these two programs, Denver and Minneapolis join over a dozen airports around the world that allow travelers to make security reservations, according to Smithsonian Magazine. In total, 19 airports are offering some sort of reservation system in partnership with Clear. The first horse out of the gate was Orlando International Airport back in October of 2021.
"The travel experience can be unpredictable — from the moment you step outside your door to the moment you arrive at your destination," Caryn Seidman-Becker, Clear's CEO, reportedly said on Fox. "We are excited to offer this new experience … [and give] travelers more predictability and more control over their time."