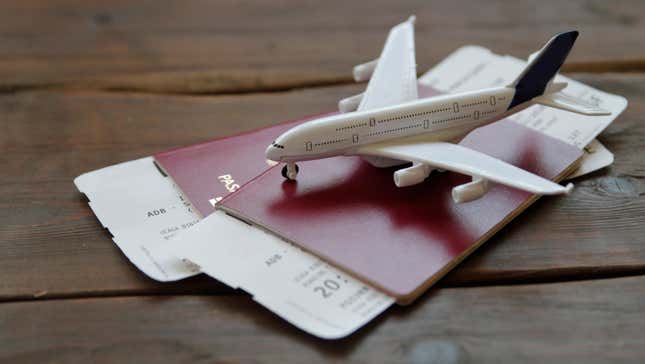 According to The Wall Street Journal, some airlines are now charging a fee of up to $25 in some cases if you want a paper boarding pass, as opposed to using a digital boarding pass on an app or one's phone. This is not really a story for anyone except the portion of The Wall Street Journal's audience that is terrified that one day they'll come for print boarding passes, as they have for other parts of the commercial flying experience, like smoking on planes, which is no longer allowed.
This NYC Garage Takes Vanlife To The Next Level | Jalopnik Visits
Still, in service of conveying useful information, here's a handy list of airlines you probably already knew to avoid, from the WSJ on Sunday:
Breeze Airways charges $3 to print each boarding pass. Allegiant Air charges $5, unless the traveler is a current or retired member of the military. Passengers on Spirit and Frontier airlines can pay as much as $25 for a customer-service representative to print them a boarding pass.

A Frontier spokeswoman said travelers are charged "only for those things you could have done yourself." Passengers can also pre-purchase help from an airport agent at a reduced price, she added.
"Passengers can also pre-purchase help from an airport agent at a reduced price" is a sentence directly from hell and it's best not to stare at it for too long. More interesting in the Journal's story is this tiny window into the youths, a debate (?) that I was not aware anyone was even having:
Younger travelers posting on Twitter and Instagram mock passengers who insist on clutching pieces of paper. "If you're under 65 and have a paper boarding pass, I'm just going to assume you are going to cause delays during my airport experience," one person tweeted.
Now, there are many ways to make the experience of flying commercial more pleasant, and some of them are relatively inexpensive, like TSA PreCheck. Others can be more costly, like getting access to the Good Lounges or flying business class. Others are expensive and sort of cult-y, like maintaining status with an airline.
At the end of the day, though, if you're flying commercial and not private everyone is in the same bucket — those who use public airports, which include some good and some bad. The source of the delay in your airport experience is usually you. Or the weather. Or the airline. It is almost certainly not some of your fellow passengers and their strange insistence on something called "paper," though the thought of people at airports being mad at other people for having paper boarding passes has truly been a gift.