Silicon Valley made its break into the automotive world with the Tesla Roadster, an electrified Lotus Elise, a futuristic sports car that communicated a vision for not just a better future, but a sexier one. Now Silicon Valley really seems to love, uh, minivans.
The newest vehicle to come out of Silicon Valley is Google's autonomous car, which isn't really an autonomous car built by Google. It's a car built in partnership with Google by Chrysler, Waymo, and it's a minivan.
It's a Chrysler Pacifica, a fine and lovely vehicle that I've driven. It's comfortable, it's spacious, it's practical and all it needs to be world class is the ability to drive itself. Google seems to solve that problem.
The most recent actual production car from Silicon Valley is a minivan as well. There's the Tesla Model X, that is authoritatively a minivan. It even has weird doors for no good reason.
G/O Media may get a commission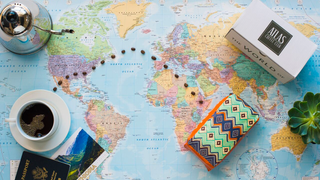 First Bag Free
Atlas Coffee Club - Free Coffee
Explore global coffee
With each bag, Atlas includes details on the coffee's tasting notes and a postcard about the region and its coffee history. And when you subscribe, you have options to tailor frequency, grind size, and roast preference of your beans, so you'll always be brewing the perfect cup.
This isn't to say that Silicon Valley has given up on sexiness. There are still some outliers if you look at concept cars and proposed production cars. There's the Tesla Model 3 premium fastback, the Lucid Air luxury fastback, the LeEco LeSee also-luxury fastback and whatever Faraday Future is going to call their crossover thing.
Honestly, even the Faraday Future car that we hope to see at the Consumer Electronics Show at the start of January isn't too far away from minivan-esque. The silhouette most closely resembles a Toyota Venza. I guess you could sort of count the Chevrolet Bolt autonomous test cars as coming from Silicon Valley, though they're just little hatchbacks and not quite on either the sexy-liftback or the blobby minivan sides.
Of course, the big blob thing is also probably the most efficient way to maximize space to haul people and their stuff, especially if you aren't constrained by things like having to put an internal combustion engine somewhere. The tech industry's cars are all electric. But they aren't exactly sexy, or risky.
I just must say that Silicon Valley's existing auto lineup looks kind of, hm, normal. It's a long way from the California cool vibe we got used to a few years ago, but it's probably for the best.