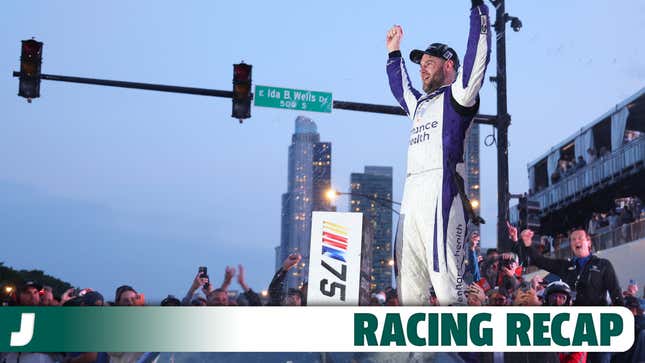 It's Monday, July 3, 2023 and this is Racing Recap, your summary of the weekend's motorsports action. Racing spanned a full range of emotions from triumph to tragedy over the past two days. Australian Supercars ace Shane van Gisbergen won in his Cup debut at NASCAR's first-ever street race in downtown Chicago. A Dutch teenager was killed in a crash during an F1 junior series race at Circuit Spa-Francorchamps in Belgium. Meanwhile, Formula One and IndyCar dealt with rules dilemmas surrounding track limits and lapped cars, respectively.
Chicago Street Race Produces NASCAR's First Debutant Winner In 60 Years
Despite fears that record rainfall would postpone or cancel the inaugural NASCAR Cup Series street race in Chicago, the green flag was waved just an hour later than expected. After the new event itself, Shane van Gisbergen stepping behind the wheel of the Trackhouse Project 91 car was the biggest attraction.
Van Gisbergen started third and matched the pace of Christopher Bell and Tyler Reddick as the three drivers pulled away from the field. The race distance being shortened from 100 laps to 75 for impending darkness and a yellow flag for a track blockage shuffled the running order, but SVG raced back to the front on fresh tires.
Van Gisbergen crossed the finish line first after a late-race duel against Justin Haley, who began the race from last place. SVG was obviously not a normal debutant. He is the reigning, three-time Australian Supercars champion with accolades across multiple racing disciplines.
While Van Gisbergen is committed to Supercars in 2024, he teased that he might make a move to the United States in 2025. His comments and the huge crowds make it difficult to argue NASCAR's first foray into street circuit racing wasn't a success.
Race Results
1. - Shane van Gisbergen (Trackhouse)
2. - Justin Haley (Kaulig) - +1.259 seconds
3. - Chase Elliott (Hendrick) - +1.685 seconds
4. - Kyle Larson (Hendrick) - +2.448 seconds
5. - Kyle Busch (Childress) - +2.801 seconds
Junior Driver Dies In 24 Hours of Spa Support Race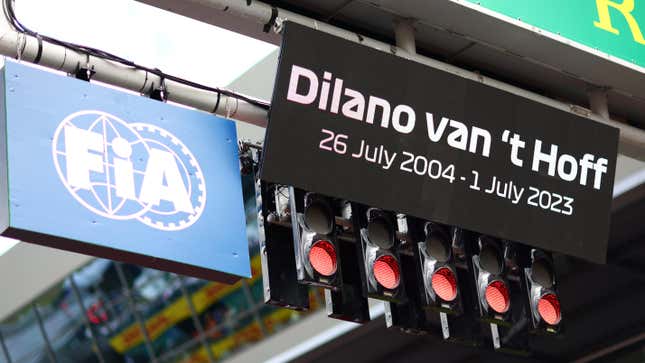 The 24 Hours of Spa in Belgium was overshadowed by a death in a support race held by the Formula Regional European Championship by Alpine (FRECA), a fourth-tier junior series on the ladder to Formula One. Dutch 18-year-old Dilano van 't Hoff was killed at the end of the weekend's second FRECA race, held several hours before the endurance classic's start.
In very wet weather conditions with poor visibility, the race was restarted with two laps to go. The fatal incident began just a few corners later with a multi-car pile-up just after the Eau Rouge-Raidillon complex. It's not yet clear what sparked the pile-up. Van 't Hoff's car had crashed into a barrier and came to a stop on the track at the beginning of the Kemmel Straight. Irish driver Adam Fitzgerald then t-boned Van 't Hoff's already damaged chassis.
The collision killed Van 't Hoff, while Fitzgerald was hospitalized with injuries he's expected to survive. The pre-race festivities for the 24 Hours of Spa were replaced with a minute's silence. The gesture was repeated before all of the Austrian Grand Prix's Saturday sessions, including the F1 sprint race. The following day, Philip Eng, one of the winning drivers in the 24 Hours of Spa, dedicated his victory to Van 't Hoff.
F1 Track Limits Fiasco In Austria, Verstappen Wins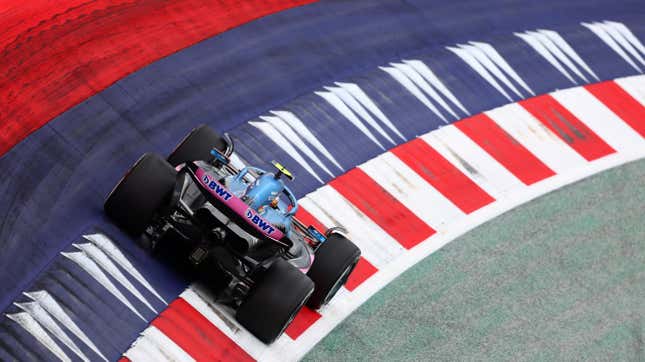 While Max Verstappen easily won his fifth race in a row, the hills were alive with the sound of track limits violations last weekend in Austria. The Red Bull Ring's two final corners, Turns 9 and 10, were a headache for most of the field to negotiate cleanly. Mercedes' George Russell and Alfa Romeo's Zhou Guanyu were the only drivers not to drive outside the white lines.
The corners were also a headache for the FIA to officiate. The sport's governing body noted that it deleted over 100 lap times during the race. However, Aston Martin felt that drivers ahead of them weren't properly penalized for exceeding track limits. The FIA agreed and manually checked over 1,200 instances when a driver might have had all four wheels off the track.
The FIA handed out a dozen more penalties, four to Alpine driver Esteban Ocon. Importantly, Carlos Sainz and Pierre Gasly were given ten-second time penalties, promoting both Aston Martin drivers and giving the team three more points. Fernando Alonso moved up to fifth place and Lance Stroll was promoted to ninth.
Race Results
1. - Max Verstappen (Red Bull)
2. - Charles Leclerc (Ferrari) - +5.155 seconds
3. - Sergio Perez (Red Bull) - +17.188 seconds
4. - Lando Norris (McLaren) - +26.327 seconds
5. - Fernando Alonso (Aston Martin) - +30.317 seconds
Alex Palou's IndyCar Dominance Continues At Mid-Ohio
At Mid-Ohio, Ganassi driver Alex Palou won his fourth race in five rounds and has a commanding 110-point lead in the championship. Ignoring potential bonus points, IndyCar awards 50 points for a race win. The early stages featured Graham Rahal and Andretti driver Colton Herta as the leaders as Palou worked his way to the front.
Palou would get by both drivers, and errors would ensure they couldn't reply. Herta was penalized for speeding into the pit entry, and Rahal's pit crew made two crucial mistakes during their stops. As a backmarker, Foyt driver Benjamin Pederson was seemingly the biggest threat to Palou. The rookie fought the championship leader ruthlessly to stay on the lead lap, but he confusingly battled against the other drivers on the lead lap after Palou got by him.
Race Results
1. - Alex Palou (Ganassi)
2. - Scott Dixon (Ganassi) - +5.024 seconds
3. - Will Power (Penske) - +18.358 seconds
4. - Christian Lundgaard (Rahal) - +19.082 seconds
5. - Scott McLaughlin (Penske) - +20.528 seconds