Oh noes, say it ain't true. Automotive News reports this morning GM's reconsidering launching the Pontiac G8 ST in 2010 and may scrap our modern day El Camino all-together.
A Pontiac spokesperson told us this morning they

"are still proceeding with plans to bring the G8 ST to market late next year. However, it will be part of an ongoing portfolio review for Pontiac."
We knew Pontiac would be trimming its lineup due to the Carpocalypse, but we're deeply saddened to learn there's a possibility we may never get the chance to have our own Ponitac G8 ST to hoon.
The G8 ST was developed on the Zeta RWD platform, the same as the G8 and upcoming Camaro. Built in Australia by GM's Holden subsidiary, GM had announced sales projections of the G8 ST to be 5,000 units annually.
G/O Media may get a commission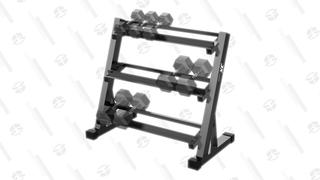 20% Off
JX Fitness Dumbbell Rack
Gains but tidy
Has a three-tier design to help store more weights more conveniently, can safely support up to 1000lbs of weight, which should be enough for most people, has a triangle base for stability, and also features anti-scratch feet which is great if you've built your own studio or workout in your garage.
In other news, the FWD 2010 Pontiac G3 will arrive on schedule in the spring. Forgive us if we don't share quite the same level of enthusiasm.
[via Automotive News]