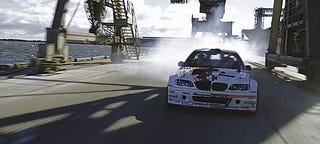 Ever get bored of trying to stay awake at your desk? You can only play the same games and send #boredtweets for so long before you sink into dreary feelings of meaninglessness and despair. What if someone accidentally dropped off a race-prepped BMW M3 drift car right in front of you?

Fortunately for all of our criminal records, professional drifter Kristaps Blušs acts out every listless desk jockey's fantasy in this drift film, taking said E46 M3 out for a the best seaside rip ever.

Blušs, who also won the Best Driving Face contest in yesterday's Hoon of the Day, has his grand burnouts, donuts and drifts amusingly captured by the security cameras he was supposed to be watching.
Let us all set sail for the Port of Hoon and watch this car leave big, beautiful clouds of tire annihilation in its wake.