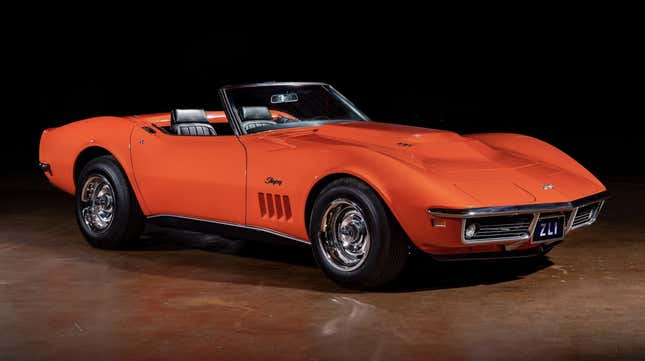 For one very wealthy individual, the trope about having a rare Corvette can actually be true. RM Sotheby's is offering an exceedingly rare 1969 Corvette Stingray ZL-1 Convertible at its upcoming Phoenix auction. A '69 Corvette convertible may not sound like anything too special, but the big news here is under the hood: the 427 cubic-inch (7.0-liter) ZL-1 big block V8 motor.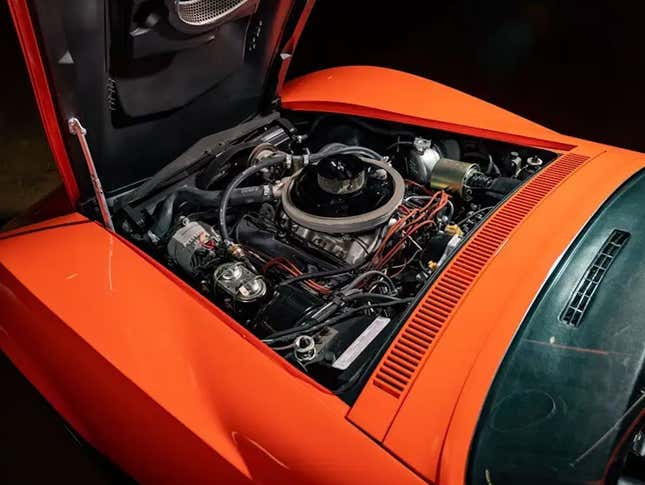 The car for sale is one of only two Corvettes to ever get that motor, and it's the only convertible as well. That means it is truly a one of one, and it can be yours for a final gavel price expected to be somewhere between $2.6 million and $3 million. That may sound like a lot, but also look at it. Goddamn.
Sotheby's says the ZL-1 engine is a lighter and more refined variant of Chevrolet's iron L88 big block V8. The aluminum block engine is outfitted with upgraded pistons, stronger connecting rods, a modified crankshaft and a higher lift camshaft. All of this comes together to make 560 horsepower. It was initially designed as an FIA and NHRA homologation experiment that was never really meant to be sold to the public.
The engine also cost quite a pretty penny. If you wanted an L88 back in 1969, you had to hand over $1,032 for the RPO L88 upgrade. That's already a decent chunk of cash over the base Corvette coupe's base price of $4,781. Only about 200 customers even bothered to select that motor. The ZL-1 was an even bigger jump past that. It added about $3,000 on top of the L88 option. In total, the ZL-1 engine would cost a buyer an additional $4,718 – which nearly doubled the price of a base Corvette.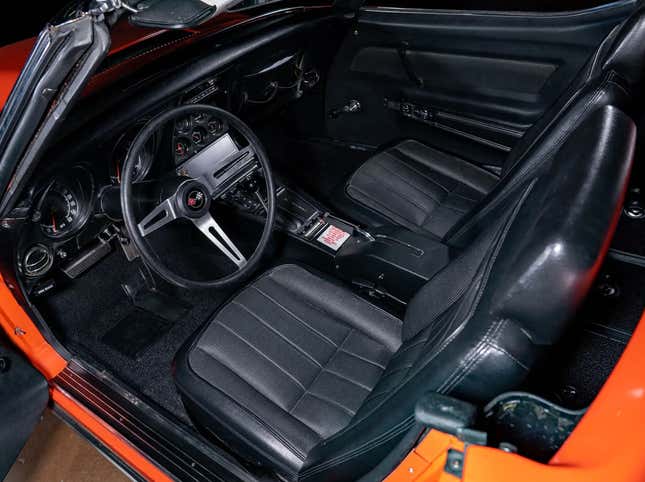 You'd think for all that money there would be some nice luxuries thrown in as well. Well, you'd be wrong. The ZL-1 package did away with the radio, heater, air condition, power windows, power steering and fan shroud. (That being said, this particular car was refitted with a shroud because of overheating concerns). Those niceties are replaced with a heavy duty suspension package, a Positraction rear end, heavy duty stoppers and a transistorized ignition, because racing.
According to the auction, this particular car happens to be the first Corvette optioned with the ZL-1 engine, and it was originally ordered by John W. Maher of Leechberg, Pennsylvania from Harold Breman's West Penn Garage in December of 1968. His interest in the car started after his buddy, Don Yenko (yes, that Yenk), hyped up the engine to him. His car was fitted with the M40 automatic transmission which was perfect for the drag racing Maher was interested in. The car was finished in Monaco Orange to pay tribute to his friend, Grady Davis, a senior vice president at Gulf Research, who helped him get the car.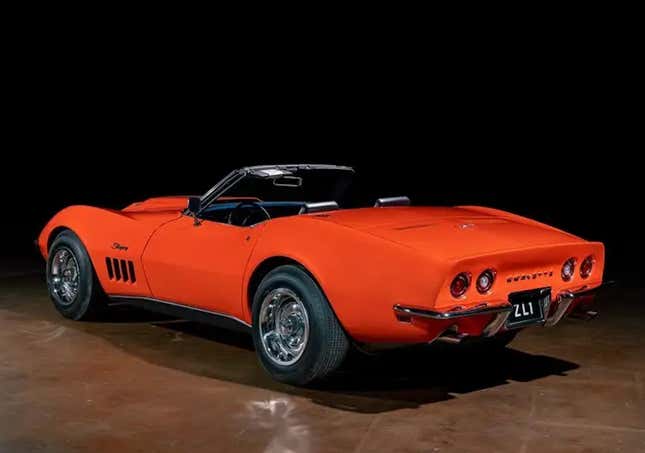 Maher ended up keeping the car until 2007, and it had its most recent restoration back in 2014. Soon after it was awarded its Bloomington Gold certification – meaning it was the best of the best in the world of Corvettes.

This'll be the first time in about 30 years a ZL-1 Corvette has been publicly offered for sale, and it very well may become the highest-priced Corvette ever. According to Robb Report, the current most expensive Corvette ever is a 1967 C2 L88 coupe that sold for $3.85 million in 2014.