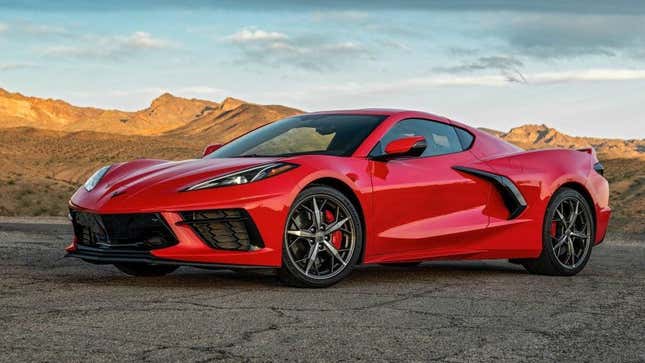 Ask any Corvette owner about their car, and they'll undoubtedly bring up how rare it is. It's all a bit of a drag. Yes Marty, I know your C5 is the only red convertible with chrome wheels made on a Tuesday in March in 2001. It's one of one, and very impressive.
But now, the Corvette Museum has released statistics on builds for the 2022 Corvette, so we can all shove it in 'Vette owners' faces that their car really isn't rare at all. According to the organization, Chevy produced 25,831 Corvettes for the 2022 model year. Of those cars, 52.1 percent were coupes and 47.9 percent were convertibles. I'm surprised the splits were so close given the price bump of the convertible as well as the fact that the coupe has a removable targa top. But hey, who am I to judge?
Speaking of judging people for their choices, here is the color choice breakdown. In total there were 12 choices for 2022 Corvette owners to pick.
Torch Red: 4,147
Arctic White: 3,603
Hypersonic Gray: 3,291
Red Mist: 3,274
Black: 2,766
Rapid Blue: 2,261
Elkhart Lake Blue: 1,412
Amplify Orange: 1,375
Ceramic Matrix Gray: 1,202
Accelerate Yellow: 1,193
Silver Flare: 922
Caffeine: 385
So no, your red Corvette is not rare. However, your brown (and best color option) Corvette actually is.
As you may have guessed, the Z51 Performance Package was incredibly popular. 68.6 percent of all 2022 Corvettes were spec'd with it. Nose lift was also very popular; 58.8 percent of buyers ticked that box, which is honestly smart. The performance exhaust is the real winner here, though. A staggering 86.9 percent of buyers went for it.
Stripes aren't really my thing, but 1,542 buyers sprung for the Carbon Flash stripe option on the outside… to really make their Vette stand out.
If you're wondering what the least selected option is, I've got your answer. It's the Full Edge Orange exterior Stripes/Graphics package. Of the nearly 26,000 Corvettes sold in 2022, only 27 of them had this package selected. They own the only rare Corvette, so congratulations to the new owners.
Interestingly, 442 Corvettes produced this model year were right hand drive. Australia and New Zealand got 212 of those. 693 Corvettes were also sent to Europe, which must be quite a sight to behold.
Interestingly, all 25,831 Corvettes were selected with the "huge ass" package that makes the rear of the car look far too big for the rest of it. Strange.