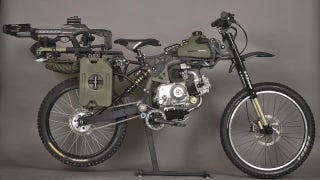 I have absolutely no need for a moped. I have a motorcycle and I have a bike, and never the twain shall meet. Then I saw the Motoped and wanted one. And then I saw this ridiculously over-endowed backwoods version and needed one.
Mechanically, it's not much different from the standard Motoped that debuted last year. It still has a 49cc four-stroke thumper pulled from Honda's CRF50, a custom frame, and off-the-shelf mountain bike parts.
Then they started tacking on the goodies. There are two, one-gallon jerry cans with extra fuel, a survival shovel, an axe, a saw, lighting, ropes, and, oh yeah, a harpoon and a freaking compound crossbow.
Motoped is calling it the Black Ops Edition, and there's a lot more gear included. What's not included is a price, although just the rolling chassis (sans engine) starts at $1,999.