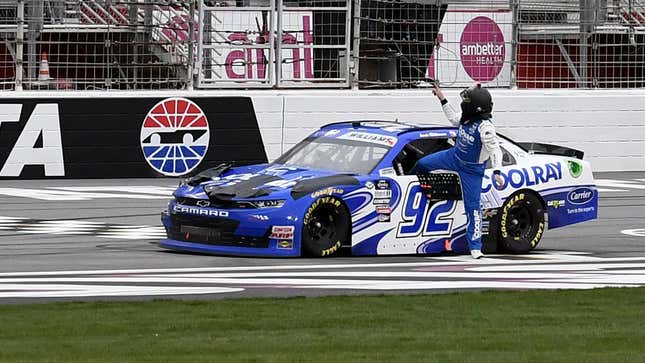 It's an oft-said expression, "when life gives you lemons, make lemonade," encouragement to make the best of a bad situation. NASCAR Xfinity Series driver Josh Williams has somehow managed to turn a parking-related suspension from NASCAR into a sponsor.
In case you missed it:
Williams was suspended by the sanctioning body after disobeying race officials and parking his car on an active race track in frustration after being ordered out of the race. However, as Williams served out his one-race ban, his team DGM Racing announced a new sponsor partnership with Parking Guidance Systems, a company that makes sensor systems to let parking-garage managers know which spots are full and which are empty.

Two weeks ago, Williams was involved in a crash during the first stage of the RAPTOR King of Tough 250 in Atlanta. Williams brought his No. 92 Chevrolet Camaro down pit lane for repairs, and his crew put bear bond repair tape on the front of the car. During the restart, a piece of tape came off the Camaro, causing another caution period. NASCAR decided to black-flag Williams, ending his race and ordering him to park his car in the garage.
The sanctioning body justified its decision with a rarely-used section in the rulebook, which reads:
At the discretion of the Series Managing Director, if a damaged vehicle elects not to enter pit road on the first opportunity or if a damaged vehicle exits pit road before sufficient repairs had been made and thereafter causes or extends a caution (e.g. leaking fluid, debris, etc.). Then said vehicle may incur a lap(s) or time penalty or may not be permitted to return to the race.
Out of frustration, Williams decided to park his car on the start-finish line as the rest of the field circled the track behind the pace car. Williams climbed out of his Camaro and walked to pit lane as he waved goodbye. Motorsport.com reports the surprising display got Williams a one-race suspension for disobeying race control.
When Williams returns to DGM Racing this weekend for the ToyotaCare 250 at Richmond Raceway, his car will wear the just-a-little-snarky Parking Guidance Systems logo. PGS will also sponsor Williams' teammate Alex Labbé in Richmond and serve as the primary sponsor for both drivers at several races this season.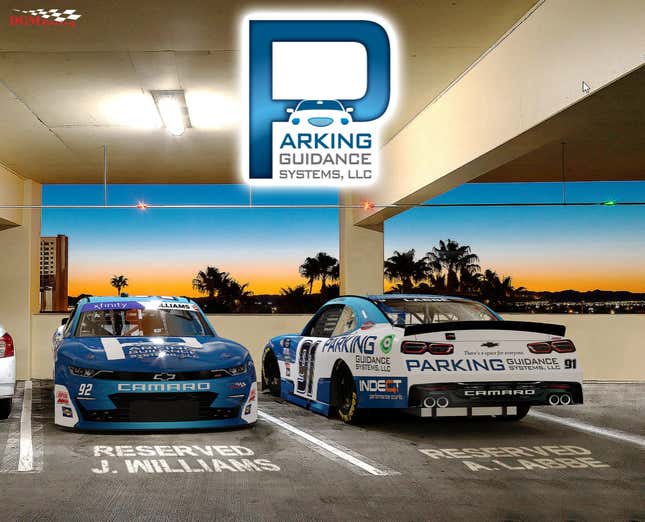 Everyone involved poked a little fun at the incident in Atlanta. Derek Frantz, PGS vice president of business development, said, "We are thrilled to be partner with Josh and DGM racing and hope that our parking guidance system will improve Josh's parking experiences in the future"
In the release, Williams said: "I am super excited to work with Parking Guidance Systems for the remainder of the season. Thankfully I won't have to worry about parking it in the wrong spot anymore!! Working with them is going to be a blast on and off the track supporting great causes. Welcome to the DGM family, now let's 'Park It' in victory lane!"