By the time Brad Perez showed up to Circuit of the Americas for the Pit Boss 250 NASCAR Xfinity Series weekend, it already sounded like he'd been run ragged. His four-race deal with Emerling-Gase Racing first started bubbling to life in 2022; he just needed to scrounge up some sponsor deals. That was, of course, easier said than done. Perez chased down every dollar he could find to guarantee he'd have a shot at COTA, where he made his Truck Series debut in 2022. He reconnected with Waco, TX-based Apex Coffee Roasters, who then introduced Perez to Katy, TX-based Weiss Sand and Clay. The finances got Perez to the track, but in a small team, he was responsible for managing sponsors, helping VIPs, assisting with the car as best he could, and navigating press like me. Months of effort, all before he ever got behind the wheel — and there was still no guarantee that he'd even make the race.
In case you missed it:
See, NASCAR allows plenty of drivers to enter a race, but the starting field is limited to 38 vehicles in the Xfinity Series. At COTA, the entry list featured 42 drivers, and most of the field is guaranteed a starting spot because they run full time. That means Perez would have to fight to make the field — or, in other words, not be one of the four slowest drivers on the track.
"The funniest way I can describe this situation is that it's like having five girlfriends, and you have to give all your girlfriends attention," Perez laughed before the race. "The problem is, I'm not good at doing all that. That's why I'm a one woman guy."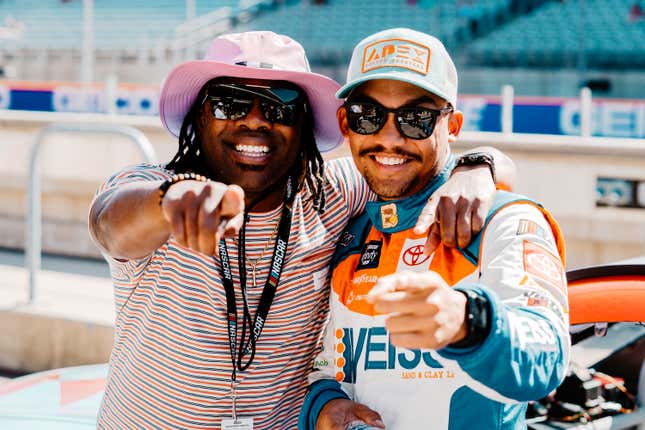 We've chatted with Perez at Jalopnik before, back in 2021 when he was preparing to make his ARCA debut. His story is one we don't often see in motorsport: the child of first- and second-generation Americans residing in Hollywood, Florida, Perez didn't have any of the money, connections, or proximity to racing hubs like Charlotte or Indianapolis to help him get his foot in the door. He basically just had a local kart track and a dream.
So he found a way to shove through that door, anyway. After spending high school working to afford a burgeoning kart career, he found sim racing and got his start in Spec Miatas, which only encouraged that racing habit further. So he moved to Charlotte, North Carolina — the hub of NASCAR racing — to take any job he could find with a team. He started out pushing brooms where he could, finding every reason he could to keep racing. He took a job as an instructor at a BMW driving school. He'd help load haulers. He'd serve as a spotter. He forged connections and worked every one of them until he worked his way into that aforementioned ARCA drive. Then came Trucks. Now, even though he doesn't have the full schedule lined up yet, Emerling-Gase has signed Perez on for four races this year.
"At the end of 2022, I linked up with Phillip Smalley, who was working for Spire Motorsports last year," Perez explained. "He told me the best way to get into Xfinity was to come up with a group of four races that I wanted to run, then work on getting sponsorship for those four races."
Perez was looking at a price tag of hundreds of thousand of dollars secure those four races with Emerling-Gase, but having a four-race pitch helped in many ways when attracting sponsors. The earlier a race deal gets locked in, Perez told me, the cheaper it'll be. He was able to contact everyone he knew and find ways to work with those sponsors, be it through a payment plan or promises of a hefty PR push all season long. Tackling a package of four races at the same time was far more efficient than if he'd attempted to finagle sponsorship for each individual race.
"Essentially, I'm like a fan that was just given too much access," Perez said, laughing, when I asked him how he's felt about his rapid rise in stock car racing — including how that has impacted the response to what he calls his "chronically online" social media presence. "Even as I've started to race more, people started to realize that my Twitter presence is just me. I'm the same offline as I am online. I just love being in a position to share cool things that 13-year-old me would have loved, because I know everyone else is going to love it, too."
"Weiss Sand and Clay's Eric Weiss — I can't say enough about what a genuinely cool dude he is," Perez said. "And so is Brett Jameson from Apex Coffee. He's a homebody, lone wolf kind of guy, so every time I see him, it's such a cool surprise. And then the Loose Is Fast podcast got on board — the young guys in this whole thing; their podcast is genuinely unhingedly hilarious, and I think they old me better than I could sell myself.
"There are just so many people. Unified Athletic Wear got our crew the sick crew shirts that we've been wearing. And then Lue Creative made me look so good with the suit and the car design — that was all them.
"I have such a cool collection of people that support me, and I love adding to the club. We're all this weird, disjointed business family, and we all have fun. It's so great.
When I first chatted with Perez during the COTA weekend, he had yet to turn a single lap.
"I am stressed out," Perez admitted. "I'm not afraid to say it. But I'm not helplessly stressed out, if that makes sense. Like, I just want this to happen because I know what I'm going to do, and I'm going to do it right.
"It's kind of like waiting for a rollercoaster. You know you're going to be fine, and you know it's going to be fun, but you're still nervous because you just have to wait and think about it."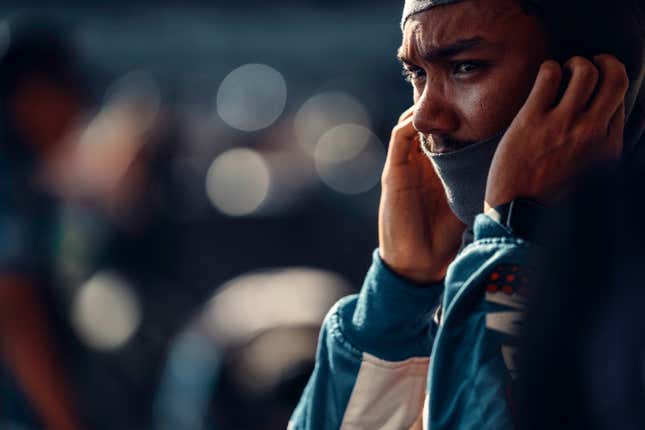 The NASCAR Xfinity schedule would provide 30 minutes of practice followed almost immediately by two 15-minute qualifying sessions. He was contesting that second session, hoping he'd be able to to nab a coveted starting spot. His speed in practice had been promising; he ended those 30 minutes in the 32nd spot out of 42 drivers on track. The tension of qualifying, however, could always be a different story.
And in the car, Perez was reeling. His Chevrolet felt almost uncomfortably loose in practice, and he admitted he'd started to psych himself out.
"In my head, I was like, 'It has to be loose. Fast is loose,'" Perez told me, referring to the fishtail-like feeling of a car prone to oversteering. "But it was like, undriveable loose."
He was hesitant to ask the team to change the car; during an Xfinity race at the Indianapolis Motor Speedway road course last year, Perez asked his team to tighten his car before qualifying, but he'd asked for too much. The changes noticeably impacted his speed, and he failed to qualify. This time, he asked for the car to be made just a smidge tighter between practice and qualifying. He didn't have much of a chance to see if he was happy with the feel of things. He just had to go fast.
As it turned out, "the adjustments were perfect," Perez said. His confidence in those changes enabled him to go all-out on his qualifying laps.
"I told myself, I'm going all the way past the bridge on the gas. I'm not going to lift until I pass the bridge. I don't care what the car feels like. I just have to go."
When the checkered flag fell on that second qualifying session, Perez could finally rest easy. He had not just made the field, but he'd qualified 30th. That's a great showing for a small team fielding a car that hadn't been run since the previous year — and one that had previously failed to qualify.
"I didn't know where I was at, like, at all," Perez said of his position in qualifying. "Joey [Gase] was like, 'I think you're good.' You think? I need to know a time! What's the time! Then he started telling me in tenths. I had to tell him I need it in minutes because I can't do math.
"But then in my head, I was like, 'Okay. Logic.' The team is going to want to make the race for their finances, and they're not going to let me miss. If he's not nervous, then I was like, let's trust him."
But for all of the nervous energy thrumming through Perez after qualifying, I could tell that he had eased up significantly, as if he'd released a breath he didn't even know he was holding. He showed me his heart rate on his health watch; it had spiked higher than 150 bpm in the throes of qualifying. It had since dropped to the 60s.
"I am extremely relieved," he said when I asked how he felt about making the show. "I did it, and I was scared, and it worked."
"Have you started thinking about how you'll approach tomorrow?" I asked.
"I feel ready. Generally, the scary part is over, but the worst thing is that this is probably going to be the most difficult race I've ever run because there are no stage cautions," he said, referring to NASCAR's decision to do away with the yellow-flag breaks that transform a single race into three smaller sprints. "I'm just gonna have to keep going. I'm going to have to be severely fit."
---
The sun rose in clear skies on Saturday morning. By the time the green flag was set to fly for the Xfinity Series race, temperatures would be nearing 85 degrees, and the track surface would be well rubbered in by Cup qualifying and a Truck series race taking place as morning bled into afternoon. Despite a later start time, though, Perez was at the track with hours to spare.

"What's the vibe this morning?" I asked.
"The vibe is chill. I'm not actually nervous. I just want to eat," Perez said, laughing. "Sometimes on race day, I'll get too nervous to eat. The meme of Watkins Glen last year was that one glizzy — one single glizzy — was the meal that gave us a top 20, but I don't want to do that again."
Perez was referring to his 20th place finish at the 2022 NASCAR Xfinity event at the iconic road course in upstate New York. And for those of you who are not chronically online, a glizzy is a hot dog.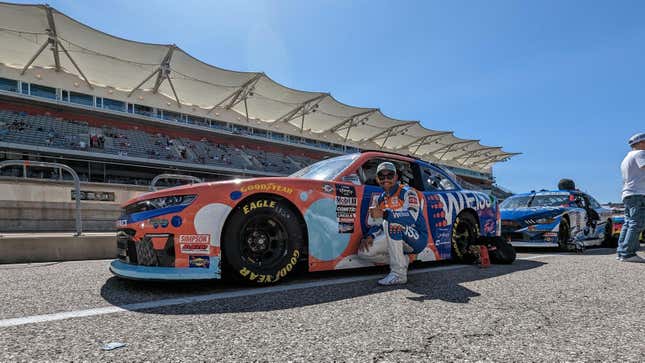 Our conversation was a quick one, as Perez was on his way to watch the Truck Series race from driver Rajah Caruth's pit box. He touched on his "conflicting" goals for the race: "I want to go as hard as I can and put [the car] as high up in the field as I can. But I still have to pace myself. Endurance-wise, I don't want to be falling out of the seat by the end of the race." He also mentioned that he and his crew were considering something called "pitting backwards."
"It's like the old-school NASCAR races," Perez explained. "This race, everyone has to make two stops, but you get to orient when you want to make those stops. We talked about pitting backwards, where we'd stop on like lap five to get out of traffic and have some clean air, then jump on everyone at the end of the race.
"It's hard to predict, though. We just don't know where the yellows are going to fall."
I had one last question before Perez headed off: Has he picked up any pre-race rituals?
Perez laughed. "This isn't intentional, but I realized before races that I just talk as much as possible. When you're just talking, you're not really thinking, so you can't be nervous. Even if I'm talking about [the race], I'm still not really thinking about it. No thoughts, head empty, just talk and then drive."
---
Perez's race was, in a phrase, a learning experience. The Pit Boss 250 was an exercise in spins, crashes, mechanical problems, and cautions for the entire field, and Perez was just one of the many drivers who found himself battling not just his competition but his own brain and his car.

His start was exceptional. By the end of the first lap, Perez had stormed up seven places, from 30th to 23rd — and it gave him a boost of much-needed confidence.
"After that start, I was like, 'man, I'm sporty!'" Perez said when I asked him to reflect on his race. "I was super impressed with myself, and I kinda felt like Superman for a minute."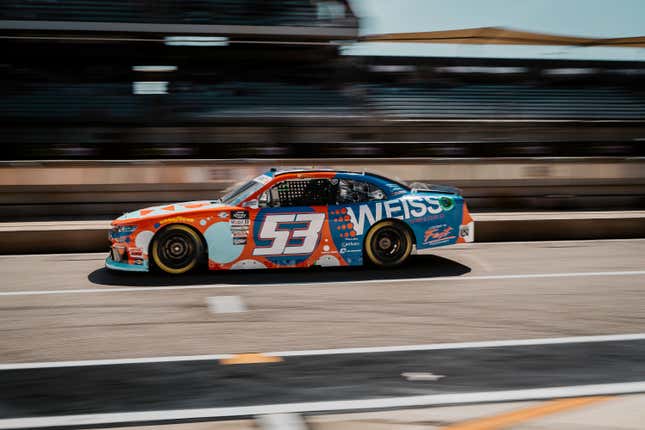 But on lap four came the first indications that this race would be a challenge. He spun. While he did manage to keep his car on the asphalt, Perez had to drop to the rear of the field and essentially begin his push to the front again.

"I had passed Ryan Seig and Preston Pardus, and I was driving away. There were cars in front of me, and I knew I could pass them — but I just overdrove it," Perez said of his spin. "I turned in, hit the curb, and the thing just snapped from under me. It felt like it just spun in slow motion. Super embarrassing.
"Ironically, that was where Preston had spun in practice, and when he told me, I was like, 'Man, that sucks. Couldn't be me!' And then it was."
Unfortunately, it didn't get any easier.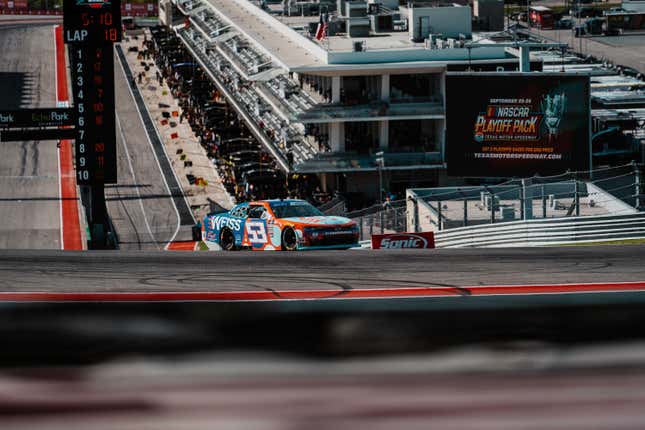 Perez credited the race's multiple cautions with helping him stay in contention, enabling him to fight for positions with each new restart — but "every restart got progressively more and more chaotic."
On the last restart, though, Perez was caught in traffic. Parker Kligerman checked up on Perez, and he noted that he had two decisions: "Go to the right for the double right-hander, push my way past everyone to take the line and potentially get spun, or go to the outside and try to clear him before the corner.
"I chose to go to the outside, and I looped it."
Perez had gotten into the marbles, which contributed to his loss of control, and somewhere in that process managed to break his car's sway bar arm. The race remained green until the finish, which meant Perez didn't have a chance to make a pit stop for repairs. He nursed the car to the finish
Multiple drivers failed to finish the race for one reason or another, but Perez nursed his car to see the checkered flag without making significant contact with another driver. With an immensely fast and capable car, Perez was understandably a bit heartbroken that he hadn't finished within the top 20. He felt it should have been possible.
Perez was classified 29th in the 2023 NASCAR Xfinity Series Pit Box 250 at COTA. There were plenty of things to be proud of in that result: Finishing the race with a damaged sway bar, racing respectfully and not making contact with other drivers, saving his car from the worst of the chaos, and being classified higher in the running order than he'd qualified. His own mistakes, though, meant Perez walked back to the hauler with a sour taste in his mouth.
---
I stopped to catch up with Perez in the paddock on Sunday before the Cup Series race. He'd recovered from some of his most immediate frustrations, but it was obvious that he'd be carrying the weight of that race on his shoulders for a while. As we talked, though, multiple people stopped to congratulate him and offer him words of encouragement: That he'd finished the race, that he'd brought the car home intact, that he'd beat drivers he had no business beating, that he needed to remember his track record has been pretty damn good for a guy who's only clocked three Xfinity Series races.

And in our official post-race chat on Monday, time had allowed Perez a chance to reflect on his performance with a little more generosity.
"My feelings on the race have definitely changed over the course of 48 hours," he said. "At first, I was really disappointed. I really felt like I should have done better, and I put a lot of pressure on myself to succeed because I don't get many opportunities to do this. Every [race] feels like it's the end."
On advice from NASCAR driver B. J. McLeod, Perez took a moment after the race to remain in the car and collect his thoughts, which he credited with helping him keep his composure. It was difficult to face his family, his crew, and his sponsors feeling that he'd let them all down.
But after having the time to digest, Perez was able to recognize that, "It's only my third race, and here I am dissecting myself as if I'm a Cup champion. The reality is, no one knew what I did wrong except for me. The car was clean, and I didn't mess up anybody's day."
I was hesitant to ask Perez how his team and sponsors felt about the event, but he beat me to it. He shared that his team was proud of him, that everyone was bolstered by the promise of speed. Crucially, though, the sponsors that provide the funding for Perez to race were over the moon.
"All the guests there were so happy," he said. "Especially Eric Weiss of Weiss Sand and Clay. After the Cup race the next day, I got to take him to the victory celebration, and he got a photo with the winner. It helps me remember that racing is so fun and can be a magical experience for a lot of people. To be able to provide that experience for others, regardless of what happens in my race, is just another part of why this is all worth it."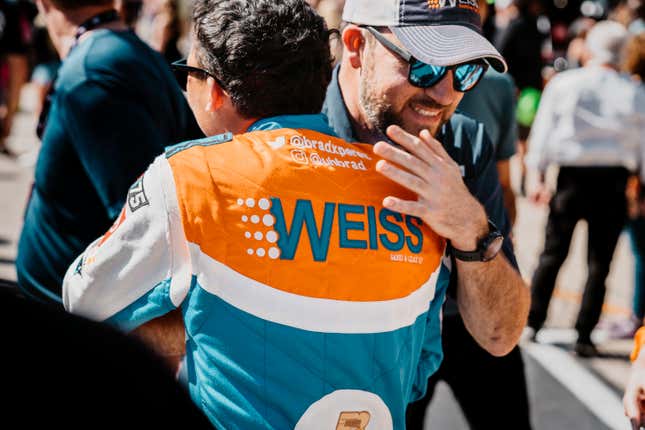 Despite the chaos, the nerves, the heartbreak, and the lost potential, Perez was able to find the positives from his Xfinity race at COTA.
"This is the first time I've ever been really competitive," he said. "I'm so used to riding around. Now that I have the experience to pass people and work on actual race craft, it was super fun. It reminded me why I love racing and why I stress myself out so much to get sponsorships and put a deal together."
Perez will have three more opportunities to put his lessons into practice by competing with Emerling-Gase Racing. He shared his intended races for 2023 with me but did acknowledge that he's still working hard to secure those final sponsorship dollars and lock in his entry. I'll leave those announcements to him.

Before we wrapped up our final conversation, I asked Brad Perez what lessons he'd learned at COTA, what mindset he'd be taking into the rest of the season. His answer was simple: "Don't get too spun up on yourself. Life is short, so remember that racing is fun. It has to be. That's why we do it."