You say your daily driver needs classic early-60s looks, clean-burning alternative fuel... and enough supercharged horsepower to rip out your spine? You want instant Project Car Hell Poster Child status? We've found your next car!
It goes without saying that I know about this car thanks to one of the crazier 24 Hours of LeMons teams; in this case, the Angry Hamsters Honda Z600, which features Magna V65 power. I went by the Hamsters' shop last weekend, to check out the Hayabusa-powered Miata being built there (more on that later), and here's this evil-looking Studebaker parked out front.


G/O Media may get a commission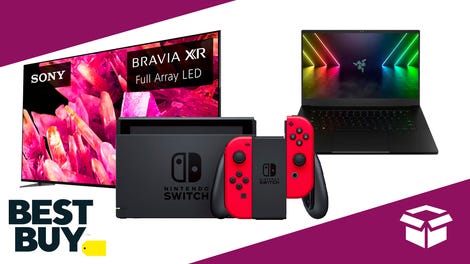 Three Day Sale!
Best Buy - 3-Day Sale
Turns out that Angry Hamster crew chief Tim picked up this project with the idea that he'd get it running and, you know, shut down all the airports on the West Coast by doing burnouts that blanket the entire time zone with clouds of rubber smoke. But then the cold light of reality started shining down— what about all that work remaining on the Miatabusa? And the CBR1000 swap into the Z600? And all those Mazda GTXs sitting outside the shop? And the Human-Powered Land Speed Record tandem bike? You get the idea. The Studebaker must go!


Propane-fueled engines are quite resistant to detonation, which means you can run even more boost when you bolt what appears to be a 6-71 atop what appears to be a Studebaker 289. How many horses will this engine make? 400? 600? Only one way to find out! It's got a nice tough Dana 44 differential and what looks to be a recently rebuilt suspension, so it's unlikely possible that you won't nuke the drivetrain and/or plow into a concrete abutment in your first glorious yards of driving.


I must admit I'm sorely tempted by this project— this Stude has got everything I look for in a motor vehicle— but I now live 1,250 miles from its Northern California home and thus have an excuse for not buying it. And you? Come on, $500 starting bid and no reserve!

[eBay Motors]