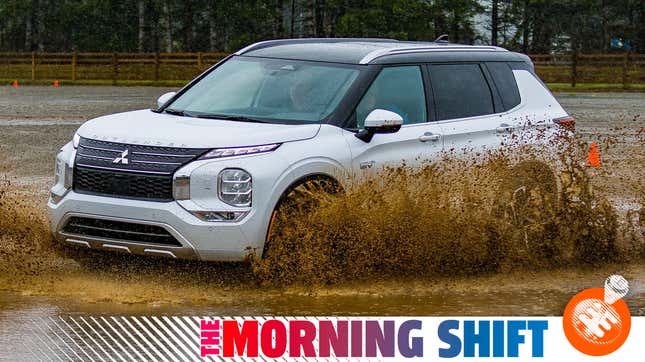 Mitsubishi will not be stopped, Lucid could be, and Ferrari. All that and more in this edition of The Morning Shift for May 9, 2023.

1st Gear: Mitsu Is Mitsu
There are many who like to make jokes about Mitsubishi, which sells three different versions of the Outlander in the U.S., as well as the sad Eclipse Cross, as well as the unbelievably underrated Mirage. The knock, usually, is that Mitsu here is really just a shadow of the days when the Lancer Evolution was as cool a car as made by anyone, which, sure. Go cry over some spilt milk while you're at it.
What Mitsu is in 2023 is a maker of good cars with solid warranties that finish above average in dependability studies. You could make a case against Mitsubishi, but in the end you're probably just telling on yourself, unless you mention CHAdeMO, in which case someone might listen. There is no other real case against Mitsu, except "I'd rather just buy a Toyota like everyone else," which is fine if you're boring.
Mitsu, at any rate, doesn't care. They are are laughing, in fact, according to Automotive News:
Mitsubishi expects North American profitability to soar in the coming year on lower incentives, better foreign exchange rates and robust sales of the Outlander PHEV crossover.

The upbeat outlook for North America, which should emerge as Mitsubishi's profit engine and second biggest market after Japan, will help offset crumbling business in China and Europe.

Fortified internet marketing and online sales are also seen helping Mitsubishi reach North American regional markets where the Japanese carmaker has sparse dealer penetration.

The combined effect will cause North American regional operating profit to more than triple in the current fiscal year ending March 31, 2024, as North America becomes the company's top profit center, Mitsubishi Motors Corp. predicted Tuesday while announcing its latest financial results.

"In North America, despite tight supply caused by semiconductor chip shortages, we introduced the new Outlander in 2021," CFO Koji Ikeda said at a news conference. "Thanks to its product appeal, we have curbed incentive spending and employed digital marketing to make sales more efficient. As a result, our overall sales quality and sales power have improved significantly."
What I like about this is that Mitsu decided to actually do a marketing push for once in North America, and as a result made some easy gains and big profits, should they be realized. It's almost like they had a decent product all along.
2nd Gear: Lucid Is Lucid
Lucid has been in the shit lately because of softening demand after the initial excitement has mostly worn off, and because Lucid didn't quite deliver on its delivery promises. People who might be Lucid customers are now wondering if it is really all that great of an idea, especially if Lucid might not be around in X amount of years, and in a decade you need a replacement part or whatever.
In this regard, Lucid's first-quarter earnings, announced yesterday, were not ideal, because Lucid said it lost $768 million in the first quarter of 2023. Lucid CEO Peter Rawlinson did his best to sound upbeat on the earnings call, according to Automotive News:
"We're seeing some early wins," Rawlinson said of the automaker's increased focus on marketing. "The number of test drives has nearly doubled in the first quarter from the fourth quarter of last year."

[...]

Rawlinson also explained why Lucid's production and delivery numbers have been so far below its original estimates in 2021, in response to an investor question presented on the call.

He said the shortfall is because of supply chain disruptions that no one could have foreseen, which limited production capacity. And more recently, he added, the automaker is suffering from higher interest rates and economic uncertainly that are negatively affecting demand.

"These are factors that are difficult to predict," Rawlinson said.
That sounds like it sucks! That is also not the kind of thing prospective buyers or investors want to hear, that the company isn't doing great because of factors outside of its control, no matter how true it is. Darker is this bit:
CFO Sherry House said Lucid is not making public its order backlog. But she did say that the automaker expects deliveries to increase in coming quarters, with the fourth quarter being the best for sales this year.

Rawlinson said that his focus as CEO has shifted from working out manufacturing bottlenecks to drumming up sales. That includes fresh efforts to provide test drives across the country.

Last month, the EV maker began a 42-city tour with Air models for display at pop-up stores.
A road show then, trying to attract any sort of interest in the Air, which is a very nice car. Lucid's new forecast for production this year is "over 10,000" cars, which is less than the up to 14,000 cars that it had said it might make in 2023 previously. Godspeed, Lucid.
3rd Gear: Fisker Is Fisker
Speaking of EV startups with iffy track records, we now turn to Fisker, which has the Ocean, another would-be Tesla competitor. I regret to note that Fisker has a new snag, according to Bloomberg:
Fisker Inc. is facing delays delivering its debut electric SUV to customers because of problems integrating software into the vehicles, people familiar with the matter said.

The EV startup has more testing and troubleshooting to do with its Ocean sport utility vehicle, according to two people who asked not to be named because the company hasn't disclosed the information. The software is currently prone to glitches, the people said, estimating the issues could take months to iron out. As a result, they said some vehicles are only using a more basic software that limits their speed.

Fisker said in an emailed statement that its vehicles will be updated over-the-air this year after launching with a basic driver-assistance system. "We categorically deny that the Fisker Ocean can be driven at only low speeds," the company said.

Following Bloomberg's report, Fisker cut its forecast for Ocean production this year by at least 15%, citing changes to timelines for regulatory approvals and supplier readiness. It's now expecting output of between 32,000 and 36,000 vehicles, down from 42,400 previously.
It's really not good when you have to issue a company statement that says that you have to "categorically deny" something, but such is Fisker's current situation. Fisker categorically denies that it's not doing just great.
4th Gear: Nikola Is Nikola
Nikola, a startup which wants to make lots of electric trucks, is in a bit more desperate situation than Fisker or Lucid, because that is the way of EV startups, in that their situations range from smug to thirsty to desperate or an unseemly combination of all three, which is Tesla. Nikola's situation, meanwhile, is completely desperate. I had forgotten, for example, that Nikola still pretended to be in Europe, though Bloomberg said Monday that that is soon no longer.
Iveco Group will take full ownership of a European joint venture with Nikola Corp., as the US-based electric truckmaker exits Europe to focus on its home market. Turin, Italy-based Iveco will assume complete ownership of the Ulm electric truck plant in Germany and be fully licensed to access and develop vehicle software control, according to a statement Tuesday.

The move comes in the wake of a vehicle recall by Nikola that sent shares tumbling, and a number of board changes.
Bloomberg is being mighty charitable by saying that Nikola is doing this to "focus on its home market," which makes it sound like a market even exists in its home for Nikolas, and the jury is still out on that. That's also assuming that Nikola can even make the vehicles it wants to. On Tuesday, according to Reuters, Nikola said it was pausing production.
Nikola Corp on Tuesday reported a bigger quarterly loss and said it would pause production to streamline the assembly line at its Coolidge, Arizona factory amid sluggish demand for its battery-powered trucks.

[...]

"At the end of May, we plan to pause truck production as we convert the line to accommodate both hydrogen fuel cell and battery electric trucks on the same line and will resume production in July with the first saleable hydrogen fuel cell trucks," Nikola said.
5th Gear: Ferrari Is Ferrari
You might have thought, or maybe you didn't, that because almost every car is going electric in the next decade that Ferrari would be forced to alter its strategy of making extremely cool and extremely irresponsible machines of your likely demise, whether it be your financial or mortal being. But, fear not, Ferrari has big plans for e-fuels, which may or may not be good for the environment, though because Ferrari makes numbers of cars in relatively small batches I'm sure the relevant regulators in Europe will declare it all just fine.
For their part, Ferrari says it's doing its part, according to Reuters.
Ferrari's plans to continue building internal combustion engine cars powered by so called e-fuels does not conflict with its target to become carbon neutral by 2030, its chief executive said on Tuesday.

"The two (targets) are very much compatible," CEO Benedetto Vigna told the Financial Times' 'Future of the Car' conference.

Vigna had previously welcomed a European Union decision to exempt cars that run on e-fuels from its planned 2035 phase-out - or 2036 for so-called small volume manufacturers like Ferrari - of combustion engine vehicles.

"We thought this (EU decision) was happening in 2025 or 2026, it has happened two years before and this is very good for us, because you can run a thermal car with a fuel that is (carbon) neutral," Vigna said.
If you want to know what Ferrari supercars will look like in a decade probably just look at Formula 1, which is going the way of synthetic fuels as well. I'm sure it will sound just as good as a naturally aspirated V8.
Reverse: Happy Birthday Ken Nomura
Neutral: Air
I bought an air compressor last year that plugs in to what we used to call the cigarette lighter in my car, and I thought I solved a longtime irritation of urban car ownership. Then a few weeks ago the damn thing just stopped working and bricked itself. Back to hoarding quarters for gas station pumps, I guess, at least until I find another portable pump that the internet assures me will definitely work this time.