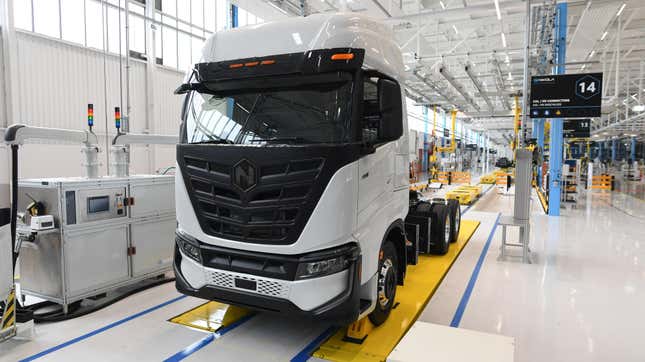 It was on Wednesday when Nikola, the highly-troubled startup electric truck startup, filed paperwork with the Securities and Exchange Commission indicating that they were selling up to $100 million worth of stock to Antara Capital, a fund that has previously invested in Nikola, at a valuation of $1.12 per share. The stock closed Wednesday at $1.50 per share on the stock market, which is more than $1.12 per share, meaning that Nikola is selling a chunk of its business to investors at a discount. The agreement, Nikola said, was part of a plan to offer $100 million in a new public offering at the same price, $1.12 per share, with Antara picking up the rest if the entire $100 million doesn't sell to the public. The stock was hovering $1.24 per share as of Tuesday afternoon. Nikola, the message seemed to be, needs new money, and probably fast.
Chase Elliott Explains the Challenge of Adapting to NASCAR's Next Gen Car
Or at least here is how a press release last Thursday described how the money would be spent:
Nikola currently intends to use the net proceeds from the public offering and the concurrent registered direct offering for working capital and other general corporate purposes.
Reuters, meanwhile, reported Friday that Nikola had about $123 million cash on hand as of last Tuesday, and an additional $85 million in restricted cash on hand. Today, Automotive News says that the $100 million stock sale shook out as follows:
Nikola, one of the first EV companies to go public via a special purpose acquisition company, or SPAC reverse merger, sold 30 million shares. The remaining 60 million shares went to Antara Capital L.P., which holds the company's convertible bonds.

Once dubbed the "Tesla of trucking," some industry observers viewed the capital raise unfavorably.

"It's not a good sign if you have to sell stock at a discount; the current environment hurts them," Michael Ramsey, transportation and mobility analyst at Gartner Inc., told Automotive News.
Nikola, you'll remember, once really did think of itself as the Tesla of trucking, both named for Nikola Tesla and everything, though that was before Tesla shot to the moon and Nikola shot nearly to the dirt. Today, the two company's fortunes could hardly have diverged more, with Tesla worth about $600 billion, and Nikola worth a little more than 0.1 percent of that, according to the market.
Tesla also doesn't spend its time groveling for some millions here and there to stay afloat, while Nikola has pretty much given up predicting what will happen to it. I will say that Nikola has managed to endure longer than perhaps anyone expected, but, at this point, that still isn't saying much.