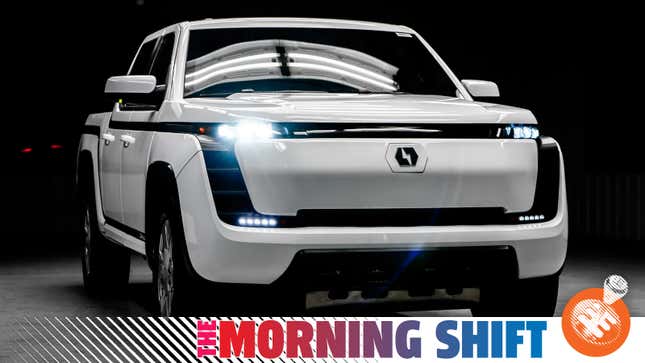 Lordstown Motors is facing a make-or-break year, Ford's new, cheap batteries will soon make their way into the Mach-E and Kia's convincing its dealerships to share. All that and more in The Morning Shift for Monday, March 6, 2023.

1st Gear: Now to Commence With the Selling
Lordstown began building its electric Endurance pickup in September. At the time it hoped to end 2022 with 50 deliveries. Instead, it recorded 31 before quickly halting production, only to recall 19 of them.
Monday morning brought the startup's latest financials and, as you'd figure, it's not a rosy picture. The company ended the quarter with $194,000 in revenue, against the $1.29 million analysts had expected to see, per Automotive News. However, Lordstown at least has a considerable amount of cash to burn and minimal debt, so the startup isn't on life support. It just needs to, you know, sell trucks. From Seeking Alpha:
Lordstown Motors Corporation had no revenue in 2020 and 2021, and only small amounts of revenue in 2022 when it began selling trucks. Operating income and operational cash flow are negative, though this is to be expected since the company hasn't had a full year of product sales yet. Nevertheless, increasing losses are increasing losses. The last 3 full years of data, 2019-2021, do not paint a good picture. Operating income was a loss of just $15 million in 2019, $100 million in 2020, and nearly a whopping $400 million in 2021. Operational cash flow losses ballooned from less than $8 million in 2019 to about $100 million in 2020, which rose to almost $390 million in 2021. Net income isn't comforting either, with losses of $15 million, $124 million, and over $400 million for 2019, 2020, and 2021, respectively. Despite these numbers, a silver lining is visible for Lordstown: its debts are only about $13 million, and its cash over $200 million, meaning it is unlikely to see a debt crisis precipitate its failure in the near future. But the cash alone does not remove the concern over the company's widening losses.
Barron's even highlighted that Lordstown's stock price ticked up nearly 6 percent on Monday. As bad as things are — the company's merely trading at $1.12 versus its all-time high of $32 in late 2020 — at least the Endurance was in production for a time, and that inspires some confidence. It's also worth noting that back then Lordstown believed it'd be pumping out upwards of 30,000 trucks annually by now. A lot can change for an EV startup in three years, especially when one of those years was 2020. Just ask Byton.
2nd Gear: The Right Ford Battery for You
The vast majority of batteries in cars today use nickel cobalt manganese (NCM) chemistry. These kinds of batteries are ideal for their energy density, which allows them to power longer travel on a charge. Ford will soon supplement that technology with lithium-ion phosphate (LFP) batteries for standard-range versions of the Mustang Mach-E and F-150 Lightning. The automaker talked up the benefits of LFP cells to Automotive News in a story published Sunday:
In addition to their low cost because of more readily available materials, lithium iron phosphate batteries are more durable and can be fully recharged more quickly, Ford said. That makes them better for customers who mainly use their vehicle for routine trips to work or school, or fleet operators with fixed routes.

Nickel cobalt manganese batteries, by contrast, can offer longer range and are more energy-dense, making them better for customers who take long road trips or need to tow or haul.

Despite the addition of a new battery chemistry, Ford's EV customers will simply continue to select between a standard- range battery or an extended-range battery. Charles Poon, Ford's global director of electrified systems engineering, said EVs with standard-range batteries will automatically get the lithium iron phosphate chemistry while extended-range models will continue to use nickel cobalt manganese batteries.
To the point about cost, LFP batteries are estimated 30 to 40 percent cheaper to produce than NCM batteries, simply due to the relative abundance of the necessary materials. Tesla started working LCP cells into its product range in late 2021 for its shorter-range models, just as Ford plans to do. Dearborn expects to begin shipping LFP-equipped Mach-Es in the spring, but the F-150 Lightning isn't likely to receive the tech until 2024.
3rd Gear: It's About Sports Cars
By now you may have heard that Germany and Italy have blocked the European Union's planned banning of internal combustion engines in 2035 over an absent exemption for engines that run on synthetic fuel. Germany and Italy also happen to be home to the world's two most iconic fast car brands, Porsche and Ferrari. This is obviously not coincidental, as Bloomberg reminds us:
Porsche holds a 12.5 percent stake in HIF Global, a manufacturer of e-fuels that operates a global pilot plant in Haru Oni, Chile.


Ferrari has said its innovation program will focus not only on the electric transition but also on e-fuels, lubricants and coolants, "which would allow us to reduce emissions while continuing to use internal combustion engines that preserve our heritage."

Ferrari's sentiment is echoing through German politics, where leaders of the pro-business FDP party have been the driver behind opposition to the combustion engine ban. Its leader, Christian Lindner, is a Porsche 911 fan who came under fire for regularly texting Porsche AG Chief Executive Officer Oliver Blume during coalition negotiations.

The FDP, the junior partner in Scholz's three-party alliance, has been trying to raise its profile in the government in recent months following a series of poor performances in regional elections and amid waning support in voter polls.

Lindner and FDP Transport Minister Volker Wissing — who delivered Germany's threat this week to block the EU legislation — are tapping into strong opinions in the country. Roughly three-quarters of Germans want their next car to have a combustion engine, according to a November 2022 survey by Nordlight Research.
Wissing, the Free Democratic Party's Transport Minister, also said that "overambitious regulation" will make it "more difficult" for the European Commission to reach its "high climate protection targets." But synthetic fuel's value toward reaching those targets is negligible at best after you factor in cost, challenges in scaling production and the fact it'll still contribute to pollution in cities. This isn't about reaching decarbonization goals; this is about protecting six-figure sports cars, because tradition.
4th Gear: The UK Car Industry Is Recovering
February saw a 26 percent year-over-year rise in registrations of new vehicles in the United Kingdom, per Reuters:
Sales of new cars jumped to 74,441 units in February, the seventh straight month of growth, per [Society of Motor Manufacturers and Traders] data, as easing supply chain shortages steered the market closer to pre-COVID levels.

Plug-in vehicles accounted for about a quarter of the registrations, with 488,000 of those set to join Britain's roads this year, the industry body said.

Registrations dipped only in two segments last month - executive and luxury saloon cars - whose sales fell more than 15% and 6.3% respectively, SMMT said.
This is the supply chain healing we've been promised for so long. The Guardian adds that February 2023's numbers were merely 6.5 percent worse than February 2020's, the waning days of the before times.
5th Gear: Kia Dealers Have Learned to Share
Speaking of the supply chain, it turns out that when parts are hard to come by, tapping into a network of franchises does a lot of good. Last summer Kia started an initiative called D2D Express to move inventory between dealerships when it's needed. In the past seven months it's helped dealers get their hands on 10,000 parts they (and their customers) would've otherwise had to wait for. From Automotive News:
Chad Huffman, parts manager for Luther Kia of Bloomington in Minnesota, is a fan of the new system.

"The D2D program works really well. I've been able to get some back-ordered parts from other dealerships that I can't get from Kia," Huffman said. "It helps relieve some of the stress from some of the vehicles and customers that are here and vice versa. We can also help other dealers in other states because we have a pretty extensive parts inventory."

The program allows a dealership to look at Kia's national parts ordering system to find where a component may exist. Kia handles the shipping costs and sends the provider dealership a bonus for its assistance worth 15 percent of the price of the part.
Auto News goes onto say that D2D Express isn't the first program of its kind in the industry, though such programs have perhaps never been more useful than they are now. Teamwork — it makes your Kia work, among other things.
Reverse: The Forbidden 480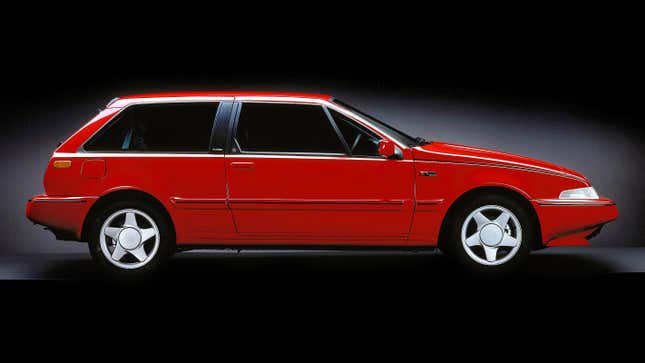 It was on this day in 1986 — 37 years ago — that the public first laid eyes on the Volvo 480 at the Geneva Motor Show, according to 365 Days of Motoring. Another perfect wedge we were denied in the States, with Lotus-engineered handling to sweeten the deal.
Neutral: Why's it Look Like That?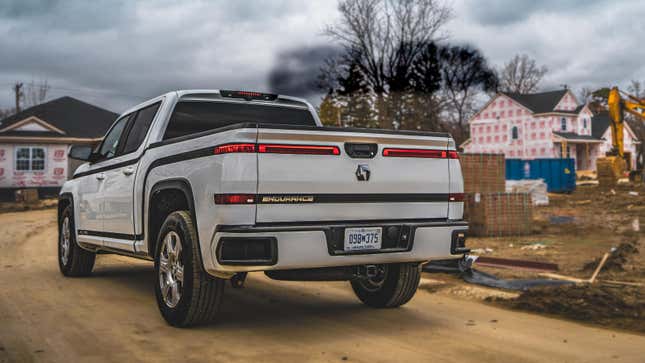 Not to kick Lordstown when it's Lords-down but the dang thing just looks silly. Why is it covered in snaking weatherstripping? It's like a free-to-use model of an "electric truck" you'd see on Blender, and I can't help but think this is going to lead to something of a demand problem if it hasn't already.