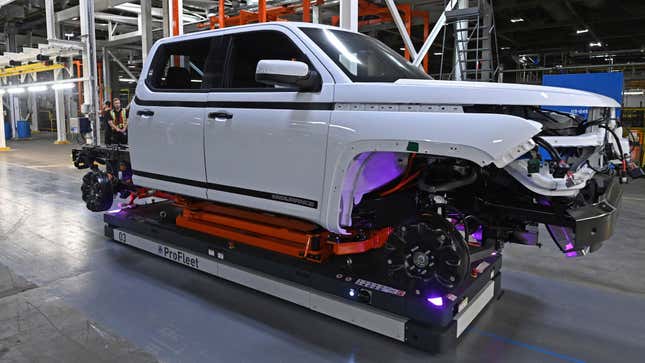 Lordstown Motors is putting a temporary halt on the production and delivery of its Endurance electric pickup truck that had started, according to a press release on the company's website. It's very early days for the truck. Reuters reports the upstart EV maker has only produced 31 of these trucks for sale.
Performance and quality issues with some of the parts going into the trucks are what is to blame for the stoppage, and right now it isn't clear exactly when production and deliveries of the Endurance will resume.
One thing is for sure though. It will probably put a bit of a kink in Lordstown's delivery targets. Reuters reports that Lordstown set a target of delivering 50 vehicles in 2022 (which didn't happen since they've only made 31 as of the end of February 2023) and hit 500 deliveries sometime this year with the first batch of commercial truck production starting last September. Keep in mind that production was originally planned to start in September of 2021.
The outlet says that vehicles waiting for shipment and in process at the plant in Lordstown, Ohio, will also be fixed. Lordstown says it is working with suppliers to figure out a solution to the problem. It said that solution could possibly be part design modifications, retrofits, and software updates.
It has also filed paperwork with the National Highway Traffic Safety Administration to voluntarily recall the Endurance to address a specific electrical connection issue that could lead to a loss of power while driving. That is less than ideal, if you ask me.
The bad news is also hurting Lordstown, a company with a record of money problems in the past, financially. As of the publication of this article, Lordstown stock was down more than nine percent today to just $1.11. There was once a time – all the way back in September of 2020, where Lordstown stock peaked at about $29 per share. Oh, how times have changed.
According to Reuters, Foxconn, a Taiwanese company that has invested heavily in and manufactures the trucks, didn't respond to a request for a comment from the outlet.
Reuters says that back in January, Lordstown said it expected production to be slow in the first quarter of 2023 because of supply chain issues. The big problem lies with the availability of hub motor components, and you can't have an electric truck without an electric motor. That's just science.