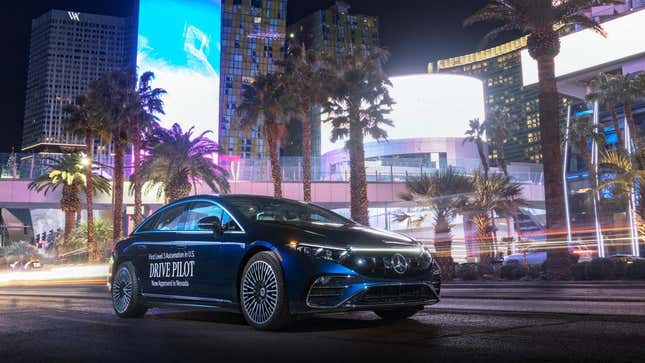 Elon Musk told investors on a fourth-quarter earnings call last week that all other car companies are far behind Tesla when it comes to automated-driving development. "There isn't even a close second to Tesla," the CEO said. The very next day, Mercedes-Benz became the first automaker to achieve SAE Level 3 certification in the U.S.

Elon Musk should really stop making predictions.
"We don't even know who would be a distant second. I don't think you can see second place with a telescope. I don't think it's any of the car companies," Musk said on the call with investors. Apparently, they didn't need a telescope — they just needed to look ahead.
As a reminder, here's how SAE International (formerly the Society for Automotive Engineers) describes its six-tier system for automated driving: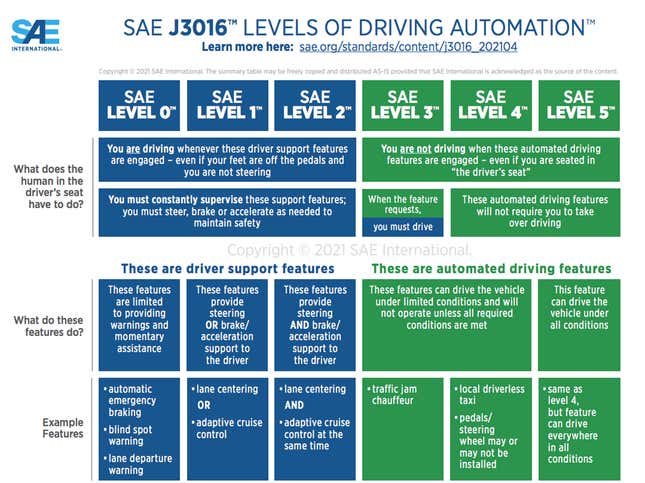 Tesla, for all its bluster (and misleading naming of its software), is still sitting at Level 2. Mercedes-Benz's system, Drive Pilot, is now Level 3 certified in Nevada.
There are some caveats, of course: Right now, the Level 3 system will only be available in Nevada, and only on two models, the 2024 Mercedes-Benz S-Class and EQS. Mercedes is waiting for California to approve its paperwork to bring Level 3 Drive Pilot to that state. It also doesn't currently work at speeds above 40 miles per hour.
Mercedes seems to think Drive Pilot, for now, is a tool to get drivers through tedious traffic jams. From the press release:
On suitable freeway sections and where there is high traffic density, DRIVE PILOT can offer to take over the dynamic driving task, up to the speed of 40 mph. The control buttons needed for this are located in the steering wheel rim, on the left and right above the thumb recesses. Once conditions are suitable, the system indicates availability on the control buttons. When the driver activates DRIVE PILOT, the system controls the speed and distance, and effortlessly guides the vehicle within its lane. The route profile, events occurring on the route and traffic signs are correspondingly taken into consideration. The system also reacts to unexpected traffic situations and handles them independently, e.g. by evasive maneuvers within the lane or by braking maneuvers.
While that may not seem like the sexiest automated-driving system ever, true technological advancement is a slow, steady, decidedly unsexy process. And Tesla speeding to market with half-baked automatic driver safety assistance systems has caused a bit of trouble for the company. Sure, profits are way up, but the Department of Justice, the National Highway Traffic Administration and the California Department of Motor Vehicles are all investigating Tesla's "Autopilot" and "Full Self-Driving Beta" software for causing deadly crashes and misleading to the public. And those are just the investigations in the U.S.