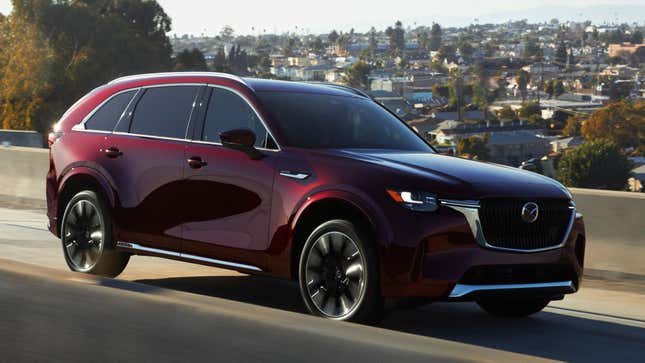 Mazda once had a shot at a true luxury division, to compete with the likes of Lexus, Mercedes, Cadillac, and all the rest. It was to be called Amati, and was full steam ahead until the bubble burst. Since then, Mazda have settled for a middle ground of something above a regular car but a notch below a luxury car, what Mazda prefers to call "premium," even if Mazda might pretend that it is still luxury at the end of the day.
What Car Should You Buy? | Cruze into a Mazda
In case you missed it:
Mazda can if it wants, but it isn't fooling anyone, including the U.S. government, which lists a car like the Mazda 3 in the "Small Cars" category of fueleconomy.gov. Similarly, Mazda's SUVs are heaped on to the pile of all the other Sport Utility Vehicles, and the U.S. Department of Energy does not consider a single Mazda to be a "Luxury Sedan."
Consider, in 2017, when Mazda was trying to go premium then, almost six years ago. Consider, in 2008, almost 15 years ago now, when Mazda was trying to go premium then. This all might seem sort of ridiculous until you consider that in 2016, Mazda celebrated its "History of Mazda Premium." Mazda hasn't spent all this time trying to go premium, you see, it simply is premium; whether that means luxury to you is your business. (It doesn't, but let's just give Mazda this one.)
From their press release back then:
Mazda's display will focus on what the company calls "Mazda Premium," a guiding principle of craftsmanship and quality that can be found throughout Mazda's current SKYACTIV-generation vehicles. What may be surprising to some is that upscale aesthetics in Mazda vehicles have been part of the company's ethos for decades. This is demonstrated in vehicles such as the 1967 Cosmo Sport 110S, a JCCS stalwart and luxury sports coupe that was also Mazda's first foray into rotary engines for production applications.

The Cosmo line lived on in Japan until 1995, where it was positioned in price and prestige above the RX-7 of the day. Badged as a Eunos, Mazda's sporting sub-brand, the Cosmo MNAO owns is powered by a twin-turbocharged, three-rotor engine that makes 280 horsepower. At one point, the Eunos Cosmo was intended to be badged as an Amati in the U.S. to compete against other Japanese luxury brands.

Another car that was supposed to lend its chassis to the Amati brand was the 929, which will be making its JCCS debut as well. The 1992 Mazda 929 is being brought to Long Beach from Irvine, where it has spent the last 20 years hidden in the back of Mazda's Heritage Collection basement. Believed to have been used for advertising shoots, this 929 recently underwent a restoration to return it to running condition again. In 1992, it sold new for $27,800, or almost $50,000 in today's dollars.
Confused yet? Because that's what I thought too all those years ago when I first laid my eyes on a 929, decades ago: Is this trying be a Camry or Avalon or what? Surely Mazda didn't think it was a Mercedes, but it was definitely classier than a Chevy Malibu or Ford Taurus. The 929 was a word that wasn't in my car vocabulary yet: It was premium.
Which is all a big buildup to a news item Tuesday in Automotive News, which — stop me if you've heard this before — says that Mazda is again trying to push upmarket, into a world called premium. Auto News talked to Tom Donnelly, the incoming CEO of Mazda's North America unit. Mazda has two new SUVs on tap for North America, the CX-70 and the CX-90, the latter of which Donnelly says will be the "most premium" car Mazda has ever sold in the U.S. Even now, Mazda can't quite bring itself to call it luxury.
From Auto News:
The three-row CX-90 goes on sale next month and offers a larger, more stylish alternative to the current CX-9, which is being phased out. The CX-70 five-seater follows later this year. Both crossovers will offer a gasoline and plug-in hybrid powertrain option.

"The CX-90 is the most premium vehicle we have ever introduced to the U.S. market," Donnelly said, noting that initial reception by dealers and media has been "universally positive."

"The exterior design, the technology in the vehicle, the powertrains that come with CX-90 really represent a [new] territory for Mazda and a significant enhancement from the way the brand has been recognized previously," he said.

Donnelly expects that CX-90 will log sales in the 90,000 range, eventually equal to "three to potentially four times the volume increase from the outgoing model."
And therein is the tell, that Mazda still isn't going for luxury — it wants volume instead with 90,000 CX-90s being roughly triple the number of X7s BMW sold in North America last year. Mazda: Still in its own world of premium, I guess.