I want to die. I want to waste away. A Maserati Khamsin is for sale not far from me at a shockingly reasonable price and I can't have it and I would rather let nature's healing decomposition clear my mind forever of thought of not owning this car.

If I have one dream car above all others, it is a Maserati Khamsin. Quad-cam V8 up front, rear-drive out back, and all sorts of strange hydropneumatic stuff from Citroen's weirdest period in between. I have never even seen one with my own eyes. I still want one desperately.

This one is in the undesirable U.S. market specification, with terrible front and rear bumpers, as well as taillights not mounted in the rear window, one of Gandini's truly wonderful styling delights bestowed upon this supreme '70s wedge. However, it is a manual and appears to be extremely original.
G/O Media may get a commission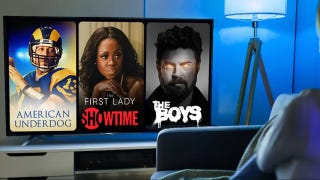 UNDER $1
99¢ Prime Video Channels
I can hear it howling in my mind already. I want peace. I want it shut out.
Note that the hood is asymmetric.
This car is on eBay in Virginia (full listing here) at maybe half or a third of most other Khamsin prices and it looks completely in order. A euro-spec conversion would not be impossible. I dream of owning one and dedicating a life to it, never finished, always a day from completion, twisting the key to fire it up with my final breath, death clasping me in my final moment. Heaven reached.
Buy it and move to a different continent so I never have to see it or think about it or let it torture me again.

Via Bring A Trailer