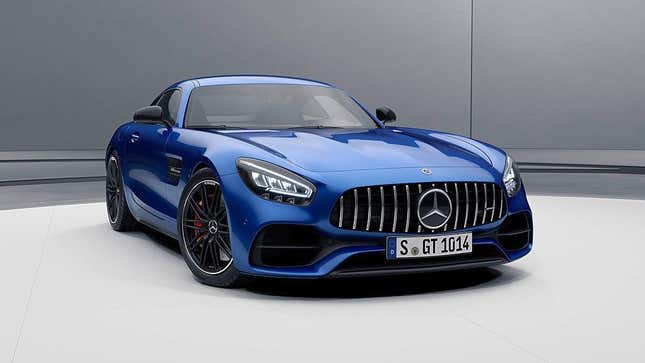 Mercedes-Benz is in the midst of a whirlwind year. More than 15 models are either going to be released for the first time or be facelifted during 2023, but there's one new Benz that stands above them all. A leaked document that got into the hands of Spanish automotive site Periodismo del Motor shows that a new AMG GT will most likely be arriving in October.
In case you missed it:
I say "most likely" because those are almost certainly on sale dates for Spain, and that doesn't necessarily reflect when the cars will be on sale in the U.S. A good example of this is the EQS SUV and EQE SUV. Both of those are already on sale here in the U.S. However, the brand new E-Class is slated to go on sale in June, the new GLC Coupe (meant to replace both the C- and E-Class coupes) will arrive in September, and a new CLE should be here in October along with the new AMG GT. Along with all of that, the GLE, GLS, GLA and GLB will receive facelifts in September.
There are a handful of other models mentioned, but they don't have dates. The A-, B-, CLA-Class, CLA Shooting Brake and GLS 600 Maybach will all be receiving facelifts sometime this year. Mercedes' in-house ultra-luxury unit will also be pulling the covers off the Maybach EQS SUV at some point, and of course the AMG One is also on its way.
According to Periodismo del Motor, the next generation of AMG GT will reportedly be heavily tied to the Mercedes-AMG SL roadster. Basically, it's going to be a coupe version of the 2+2 roadster. In fact, it'll also have the 2+2 layout, which is a departure from the previous generation of the coupe. The engines will also be shared between both models. However, the hard top GT may reportedly get a high-performance AMG E Performance plug-in hybrid system.
One thing is for sure, it's going to be a busy year for the folks over in Stuttgart.