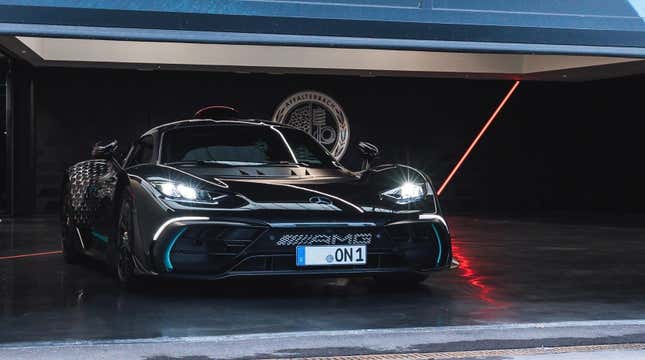 It's been a long time coming, but we are finally getting a look at the first of 275 customer-destined Mercedes-AMG Ones. The automaker unleashed its halo Project One concept car on the world at the Frankfurt Motor Show more than five years ago, and since then it has pretty much just been a waiting game for when the hypercar would actually get into customers' hands.
Introducing The Mercedes AMG E-Scooter
The folks over in Affalterbach took to social media to show off their latest and greatest creation. You would think the aforementioned One won't be going too far. Pictures show it sporting a German "ON1" license plate, but the hypercar does in fact have to do a bit of traveling. They're actually being assembled at AMG's facility in Coventry, UK which is about 35 miles from the Formula 1 team's headquarters in Brixworth.
They also show that the first One is mostly black, but it has a number of Petronas green accents that'll make the buyer feel like they're a part of the Mercedes-AMG Petronas F1 Team. The car is also adorned with a number of AMG logos throughout, and out back dozens of white three-pointed stars that will let anyone know this car is indeed a Mercedes.
Production of the One started back in August after numerous delays due to emissions issues with the 1.6-liter F1-derived V6. We've previously reported that V6 alone will push out 574 horsepower. Not too bad, but if you're building a halo car, you need more. That's why the zany Germans at AMG fitted the car with four electric motors.
"One has been integrated into the turbocharger, another has been installed directly on the combustion engine with a link to the crankcase and the two remaining motors drive the front wheels," the automaker said in a release.
All of that funky engineering combined means the AMG One will be pumping out 1,063 horsepower with an 11,000 rpm redline and a service schedule that will include the engine being completely rebuilt every 31,000 miles. That is enough power to help the AMG One smash the Nurburgring's lap record.
As for who the owner of the first AMG One is, well, that's anyone's guess. It could even be you. By the way, if it is, may I borrow a couple million bucks? Thanks in advance.