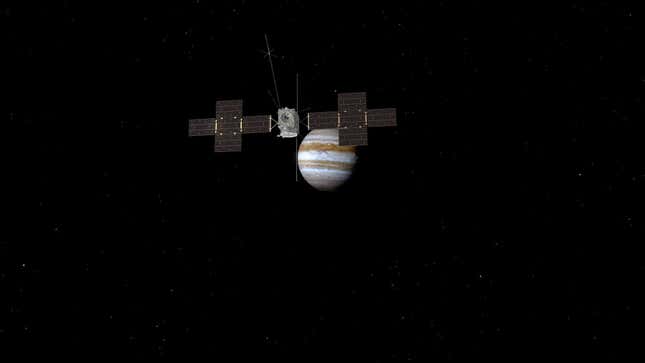 On Thursday, a European spacecraft will start its eight-year journey to Jupiter in an effort to study the biggest planet in our solar system and three of its moons. According to Axios, the mission will be to check out the moons Callisto, Europa and Ganymede. It's being done as part of mankind's ongoing quest to find life outside our planet. The Juice mission will also mark the first time a spacecraft has orbited a moon other than our own.
I Think You Should Leave Is Full Of Comedy About Cars
In case you missed it:
Axios reports that all three moons are thought to have subsurface oceans beneath their icy shells, which could provide habitable environments for microbes and other organisms. When Juice gets out there in late 2031, it will map the moons, investigate Europa's chemistry and potential for supporting life, and gather more info about how the moons interact with Jupiter itself.
The European Space Agency wrote that the moons could contain a "colossal" amount of water – as much as six times the amount found in Earth's oceans.
Axios reports that the mission is due to launch in French Guiana on Thursday, April 13th at 8:15 a.m. EST, and you can watch it live here on YouTube. Juice is going to be placed on top of an Ariane 5 rocket to help get into space.
It'll only be there for 28 minutes after liftoff, though. After 50 minutes, Juice's solar arrays will deploy and start feeding power to the vehicle. Throughout the first 17 days, more antennas, probes and magnetometer booms will deploy, according to The Planetary Society.
If Juice sounds familiar to you, it's because it's one of the main characters in Jon Bois's article "17776" about what football would be like in a distant future. If you have a moment, I do suggest reading it. It's a lovely story that really doesn't have too much to do with football, I promise.